MEET AND GREET BOOKSIGNING
Gregory Hull: Journey Home to the Authentic Self
2-4PM SATURDAY, NOVEMBER 10
Artist Gregory Hull to discusses the art book covering his painting career.
Nationally renowned and regarded a Renaissance man, Gregory Hull is among today's premier contemporary realists, achieving success across multiple genres: portraits, still life, and landscape. Harnessing classical training descended from European academies, Hull mastered each new artistic quest with his own potent and emotive style. While his eclecticism defied definition by art critics, curators, and gallerists -- who tend to pigeon-hole artists -- it never hindered his success. Hull was simply too huge a talent. Sell-out solo shows at America's most prominent galleries, from New York City to California, as well as prestigious awards and celebrity commissions, furthered his fame. For forty years, Hull has lived by his brush, his skill and courage aiding his creative potential and authentic self. His journey offers a roadmap for those aiming to follow their heart and lead a fulfilling life. Overcoming obstacles of all kinds, his path provides signposts for your own triumphs.
ABOUT THE PAINTER
GREGORY HULL is one of America's genuine leaders in the field of contemporary realism, whose versatility and variety in subject matter are brilliantly displayed in his outstanding works. His relentless pursuit of scenic locations has taken him from the high peaks of the Sierras of California to the depths of the Grand Canyon in Arizona, and has allowed him to vividly capture the magnificence of nature on canvas. Gregory Hull's brushstrokes are fluid, bold and expressive, becoming the vehicle for the study of light, the subject of all his paintings.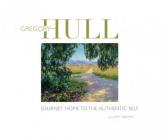 $50.00
ISBN: 9780692881842
Availability: On Our Shelves Now
Published: Ranthia Press - September 17th, 2017
---