Pete Souza
Shade: A Tale of Two Presidents
7PM SATURDAY, NOVEMBER 17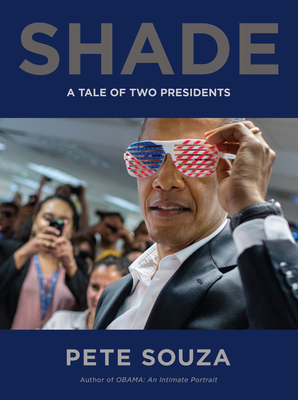 Talk and Slideshow Presentation with former Chief Official White House Photographer Pete Souza.

Changing Hands is proud to present Pete Souza with his new book Shade: A Tale of Two Presidents, the follow-up to the #1 New York Times bestseller Obama: An Intimate Portrait.
GET YOUR BOOK AND TICKET
Order your ticket package at the bottom of the page. We'll send you an email confirmation.
TICKET PACKAGES
→ Ticket Package 1: $40.58 + fees: One (1) copy of Shade and admission for one (1) person.
→ Ticket Package 2: $50.58 + fees: One (1) copy of Shade and admission for two (2) people.
Purchase below (at the bottom of the page). Or through the Eventbrite page.
EVENT GUIDELINES
WILL-CALL opens at 6pm outside the auditorium. Please check in here to be admitted into the event.
PICK UP YOUR BOOK at the Orpheum on event day, outside the auditorium between 6 and 7pm.
BOOKS - Each ticket includes a copy of SHADE and a signed book plate.
SEATING is general admission and opens at 6pm.
PARKING is available in several lots near the Orpheum. Check out this map for more info »
EVENT GUIDELINES may be subject to changes.
REFUNDS will not be issued within seven days of the event.
CAN'T MAKE IT?
Call 602.274.0067 to order a signed copy of
Shade: A Tale of Two Presidents
and we'll have it signed and reserved for you. We also ship anywhere in the US and to most international locations!
ABOUT THE BOOK
Shade
is a portrait in contrasts, telling the tale of two presidencies through a series of powerful visual juxtapositions--with Pete Souza's unforgettable images of President Obama delivering new power and meaning when framed by tweets, headlines, quotes, and other material from the first 500 days of the Trump administration.
When Souza left the White House in 2017, he didn't know what it meant to "throw shade"--but soon learned he was doing it, by posting photographs on Instagram from the Obama years along with captions that vividly define the contrast between the Obama and Trump administrations. Since then, he has become a potent force in American life, offering incisive political criticism alongside powerful reminders of the best our country has to offer to nearly two million followers.
More than a sharp compendium of "claps back," this collection of Souza's indelible photography of a historic time is a touchstone to an era of integrity in politics. Souza's work reminds us of the highest American values we share, and gives the courage to stand up and speak out for what we believe in.
ABOUT THE AUTHOR
PETE SOUZA was the Chief Official White House Photographer for President Obama and the Director of the White House Photo Office. Previously Souza was an Assistant Professor of Photojournalism at Ohio University, the national photographer for the
Chicago Tribune
, a freelancer for
National Geographic
, and an Official White House Photographer for President Reagan. His books include the
New York Times
bestseller
The Rise of Barack Obama
, which documents the president's meteoric ascent from his first day in the United States Senate through the 2008 Pennsylvania presidential primary. Souza is currently a freelance photographer based in Washington, D.C., and is a Professor Emeritus at Ohio University's School of Visual Communication.