Wendy R. Williams: Listen to the Poet: Writing, Performance, and Community in Youth Spoken Word Poetry
7PM TUESDAY, NOVEMBER 27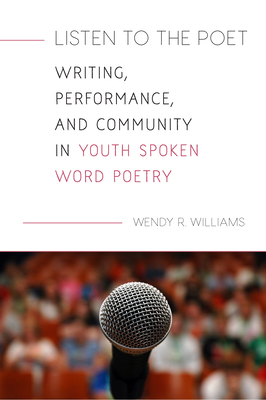 The author and ASU assistant English professor shares her book.
Youth spoken word poetry groups are on the rise in the United States, offering safe spaces for young people to write and perform. These diverse groups encourage members to share their lived experiences, decry injustices, and imagine a better future. At a time when students may find writing in school alienating and formulaic, composing in these poetry groups can be refreshingly relevant and exciting.
Listen to the Poet
investigates two Arizona spoken word poetry groups—a community group and a high school club—that are both part of the same youth organization. Exploring the writing lives and poetry of several members, Wendy R. Williams takes readers inside a writing workshop and poetry slam and reveals that schools have much to learn about writing, performance, community, and authorship from groups like these and from youth writers themselves.
ABOUT THE AUTHOR
WENDY R. WILLIAMS is assistant professor of English education at Arizona State University. She is the Young Authors' Studio Director
in the
College of Integrative Sciences and Arts.

$27.95
ISBN: 9781625343970
Availability: On Our Shelves Now
Published: University of Massachusetts Press - August 31st, 2018
---