Aarón Sánchez
Where I Come From: Life Lessons from a Latino Chef
6PM MONDAY, NOVEMBER 18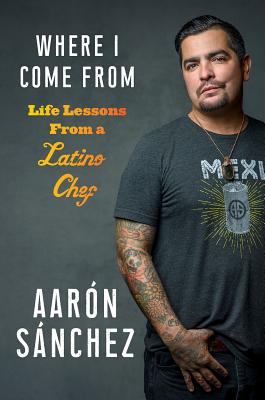 Judge on Fox's hit show MasterChef, Aarón Sánchez visits for a meet-and-greet booksigning to celebrate the release of his new memoir.
GET YOUR BOOK AND TICKET
Order your ticket package at the bottom of the page. We'll send you an email confirmation.
Want additional signed copies of
Where I Come From
? Just add them to your Eventbrite order at checkout. You can pick them up at the bookstore on event night at check-in.
TICKET PACKAGES
→ Signing Line Ticket: $29.32 + fees: One (1) signed hardcover copy of Where I Come From and admission to the signing line for two (2) people.
Purchase below (at the bottom of the page).
EVENT GUIDELINES
This is a meet-and-greet booksigning event.
Ticket includes one (1) copy of Where I Come From.
Each fan in line must purchase a ticket or be the guest of a ticket-holder. (Limit one guest per ticket-holder.)
Check-in at the front information counter in Changing Hands Phoenix beginning at 5:30pm.
Books will be distributed at will-call starting at 5:30pm.
EVENT GUIDELINES may be subject to changes.
REFUNDS will not be issued within seven days of the event.
CAN'T MAKE IT?
Call 602.274.0067 to order a signed copy of
Where I Come From
and we'll have it signed and reserved for you. We also ship anywhere in the US and to most international locations!
ABOUT THE BOOK
Before Chef Aarón Sánchez rose to fame on shows like
MasterChef
and
Chopped
, he was a restless Mexican-American son, raised by a fiercely determined and talented woman who was a successful chef and restaurateur in her own right—she is credited with bringing Mexican cuisine to the New York City dining scene. In many ways, Sánchez, who lost his father at a young age, was destined to follow in his mother Zarela's footsteps. He spent nights as a child in his family's dining room surrounded by some of the most influential chefs and restaurateurs in New York. At 16, needing direction, he was sent by his mother to work for renowned chef Paul Prudhomme in New Orleans.
In this memoir, Sánchez delves into his formative years with remarkable candor, injecting his story with adrenaline and revealing how he fell in love with cooking and started a career in the fast-paced culinary world. Sánchez shares the invaluable lessons he learned from his upbringing and his training—both inside and outside the kitchen—and offers an intimate look into the chaotic and untraditional life of a professional chef and television personality. This memoir is Sánchez's highly personal account of a fatherless Latino kid whose talent and passion took him to the top of his profession.
ABOUT THE AUTHOR
Aarón Sánchez is an award-winning chef, TV personality, cookbook author, and philanthropist. He is the costar of the hit series
MasterChef
and
MasterChef Jr.
and has starred and guest-starred on many television series on Food Network and Cooking Channel. He lives in New Orleans.