THIS EVENT HAS BEEN CANCELLED
William Hung
Champion by Choice
5PM FRIDAY, NOVEMBER 8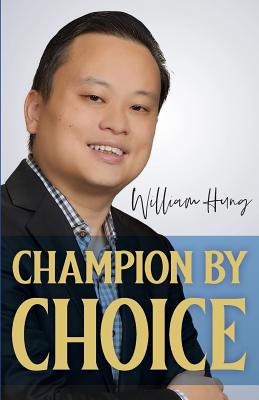 American Idol hopeful (and internet legend) William Hung shares his self-published memoir
GET YOUR BOOK AND TICKET
Order your ticket package at the bottom of the page. We'll send you an email confirmation.
TICKET PACKAGES
→ Ticket Package 1: $14.11 + fees: Admission for one (1) person and one (1) copy of Champion by Choice.
→ Ticket Package 2: $18.11 + fees: Admission for two (2) people and one (1) copy of Champion by Choice.
Purchase below (at the bottom of the page).
EVENT GUIDELINES
CHECK-IN at the front information counter in Changing Hands Phoenix beginning at 4:30pm.
SEATING opens at 4:30pm and is determined by letter group printed on signing line voucher handed out at check-in.
PICK UP YOUR BOOK at Changing Hands Phoenix on event day beginning at 4:30pm.
SIGNING LINE forms after the event by letter group printed on signing line vouchers handed out at check-in.
EVENT GUIDELINES may be subject to changes.
REFUNDS will not be issued within seven days of the event.
CAN'T MAKE IT?
Call 602.274.0067 to order a signed copy of
Champion by Choice
and we'll have it signed and reserved for you. We also ship anywhere in the US and to most international locations!
ABOUT THE BOOK
He went from being laughed off American Idol to performing live with Ricky Martin.
Imagine mustering the courage to try out for a reality TV show only to bomb the audition in front of millions of viewers. That level of nationwide humiliation would be enough to make even the most confident among us admit defeat.
This story is proof that dreams can come true.
Although American Idol hopeful William Hung with his off-key rendition of Ricky Martin's "She Bangs" never did make it to Hollywood, he overcame the odds to define his own version of success.
In this refreshingly upbeat memoir, William offers "Three Cs" to live by:
Communication: Be genuine (authenticity goes farther than being phony--even in show business )
Context: Take responsibility for outcomes, especially those you can't control. And protect your time by saying "no" and setting boundaries.
Connection: Build meaningful relationships that will enhance your business and your life.
For anyone who's been booed off the stage of life, William will inspire you to tap into your true potential, turn negativity into something amazing, and reach for the stars.
ABOUT THE AUTHOR
After his American Idol audition, William Hung's rendition of "She Bangs" became famous for all the wrong reasons. Despite a humbling start, William redeemed himself. He has since appeared on Jimmy Kimmel Live! and The Ellen DeGeneres Show and even performed live with Rick Martin in Las Vegas. He currently resides in Los Angeles.