TWEEN EVENT
Club Read: Malamander
2PM SATURDAY, NOVEMBER 2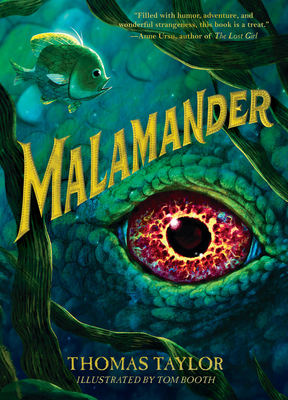 Calling all tweens! Join us for free grub from Streets of New York as we discuss Thomas Taylor's Malamander.
Club Read Badge Members: Get three points for attending the meeting, and one point when you purchase the month's pick at Changing Hands Bookstore. Don't have a free club read badge? Ask a bookseller how to get one!
CLUB READ IN PHOENIX
We will also be discussing
Malamander
at 2pm on Saturday, November 2, 2019 at Changing Hands Tempe's Club Read meeting.
More info »

ABOUT THE BOOK
A quirky, creepy fantasy set in Eerie-on-Sea finds a colorful cast of characters in hot pursuit of a sea monster thought to convey a surprising gift.

It's winter in the town of Eerie-on-Sea, where the mist is thick and the salt spray is rattling the windows of the Grand Nautilus Hotel. Inside, young Herbert Lemon, Lost and Founder for the hotel, has an unexpected visitor. It seems that Violet Parma, a fearless girl around his age, lost her parents at the hotel when she was a baby, and she's sure that the nervous Herbert is the only person who can help her find them. The trouble is, Violet is being pursued at that moment by a strange hook-handed man. And the town legend of the Malamander — a part-fish, part-human monster whose egg is said to make dreams come true — is rearing its scaly head. As various townspeople, some good-hearted, some nefarious, reveal themselves to be monster hunters on the sly, can Herbert and Violet elude them and discover what happened to Violet's kin? This lighthearted, fantastical mystery, featuring black-and-white spot illustrations, kicks off a trilogy of fantasies set in the seaside town.
WHAT IS CLUB READ?
Great books, prize giveaways, tasty treats, author visits and more — it's all part of our free Club Read program for kids, and you're invited! We meet once a month to discuss a book, do some fun activities, and have a great time. Sign up today (it's free!) and start earning points towards all kinds of cool prizes.
More info »