CHANGING HANDS BOOK CLUB
Found in Translation: Celestial Bodies by Jokha Alharthi, translated by Marilyn Booth
7PM WEDNESDAY, NOVEMBER 13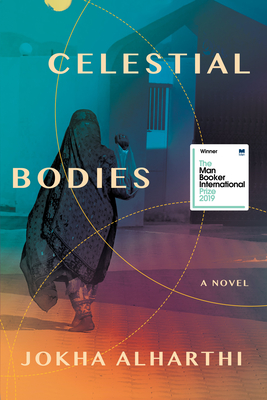 This month we'll discuss Celestial Bodies by Jokha Alharthi, translated by Marilyn Booth, winner of the 2019 Man Booker International Prize.
Whether you're a seasoned traveler, a voracious reader, or a dreamer who wants to see the world, all are invited to our newest book club focused on international literature. Sometimes visiting other countries doesn't always give travelers an insider's view into foreign cultures; sometimes we are still too outside, too different, to get at the heart of a place. Often the best way to understand distant lands and peoples is to read their literature, to get inside the head of a foreign author, to hear their myths and fairy tales molded around words they penned in their mother tongue.
In Found in Translation, we will delve into a work of international literature in a small group setting while enjoying coffee, beer, or wine drinks from First Draft Book Bar, located in Changing Hands Phoenix.
Stop by Changing Hands Phoenix or Tempe (or order online by clicking "add to cart" below) to get your copy of
Celestial Bodies
for
10% OFF
.
Then meet us at First Draft Book Bar to discuss the pick and enjoy
HAPPY HOUR
prices all through the event.
FREE PARKING / LIGHT RAIL
Don't want to drive? Take the Light Rail! It lets off at the Central Avenue/Camelback Park-and-Ride, which has hundreds of free parking spaces across the street from Changing Hands.
ABOUT THE BOOK
Winner of the 2019 Man Booker International Prize
In the village of al-Awafi in Oman, we encounter three sisters: Mayya, who marries after a heartbreak; Asma, who marries from a sense of duty; and Khawla, who chooses to refuse all offers and await a reunion with the man she loves, who has emigrated to Canada.
These three women and their families, their losses and loves, unspool beautifully against a backdrop of a rapidly changing Oman, a country evolving from a traditional, slave-owning society into its complex present. Through the sisters, we glimpse a society in all its degrees, from the very poorest of the local slave families to those making money through the advent of new wealth.
The first novel originally written in Arabic to ever win the Man Booker International Prize, and the first book by a female Omani author to be translated into English,
Celestial Bodies
marks the arrival in the United States of a major international writer.

$15.26
ISBN: 9781948226943
Availability: On Our Shelves Now
Published: Catapult - October 8th, 2019
---