Jeremy Beer: Oscar Charleston: The Life and Legend of Baseball's Greatest Forgotten Player
7PM THURSDAY, NOVEMBER 14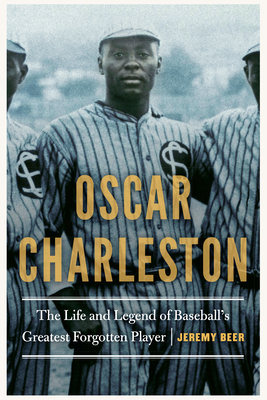 As we approach the 100th anniversary of the founding of the Negro National League, Jeremy Beer visits to discuss and sign his book Oscar Charleston: The Life and Legend of Baseball's Greatest Forgotten Player.
Buck O'Neil once described him as "Ty Cobb, Babe Ruth, and Tris Speaker rolled into one." Among experts he is regarded as the best player in Negro Leagues history. During his prime he became a legend in Cuba and one of black America's most popular figures. Yet even among serious sports fans, Oscar Charleston is virtually unknown today.
In a long career spanning from 1915 to 1954, Charleston played against, managed, befriended, and occasionally fought men such as Lou Gehrig, Jimmie Foxx, Lefty Grove, Satchel Paige, Josh Gibson, Jesse Owens, Roy Campanella, and Branch Rickey. He displayed tremendous power, speed, and defensive instincts along with a fierce intelligence and commitment to his craft. Charleston's competitive fire sometimes brought him trouble, but more often it led to victories, championships, and profound respect.
While Charleston never played in the Major Leagues, he was a trailblazer who became the first black man to work as a scout for a Major League team when Branch Rickey hired him to evaluate players for the Dodgers in the 1940s. From the mid‑1920s on, he was a player‑manager for several clubs. In 1932 he joined the Pittsburgh Crawfords and would manage the club many consider the finest Negro League team of all time, featuring five future Hall of Famers, including himself, Cool Papa Bell, Josh Gibson, Judy Johnson, and Satchel Paige.
Charleston's combined record as a player, manager, and scout makes him the most accomplished figure in black baseball history. His mastery of the quintessentially American sport under the conditions of segregation revealed what was possible for black achievement, bringing hope to millions.
Oscar Charleston
introduces readers to one of America's greatest and most fascinating athletes.
PARKING / LIGHT RAIL
Don't want to drive? Take the Light Rail! It lets off at the Central Avenue/Camelback Park-and-Ride, which has hundreds of free parking spaces across the street from Changing Hands.
ABOUT THE AUTHOR
Jeremy Beer
is a founding partner at American Philanthropic in Phoenix. He is the author of
The Philanthropic Revolution: An Alternative History of American Charity
and his writing on sports, society, and culture has appeared in the
Washington Post
,
National Review
,
First Things
, and the
Baseball Research Journal
, among many other venues.

$29.95
ISBN: 9781496217110
Availability: On Our Shelves Now
Published: University of Nebraska Press - November 1st, 2019
---