Jim Wallis: Christ in Crisis: Why We Need to Reclaim Jesus
7PM WEDNESDAY, NOVEMBER 20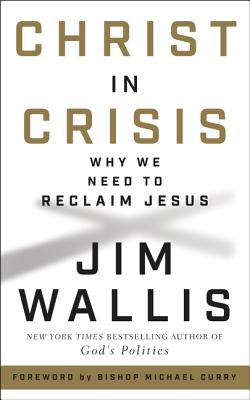 Join us for a conversation with speaker, pastor, and activist Jim Wallis to discuss his new book, Christ in Crisis: Why We Need to Reclaim Jesus.
With a practical and empathetic approach, Wallis addresses Jesus' teaching in light of our current moral, political, and spiritual crises, offering both a challenge and a path forward for our community life.
In his latest book,
Christ in Crisis: Why We Need to Reclaim Jesus
, theologian and activist Jim Wallis shows how the teachings of Jesus have direct relevance to our current political and spiritual crisis, by pointing to specific questions Jesus either asked or prompted.
Building on the popular and controversial Reclaiming Jesus declaration he and other leaders wrote in May 2018 to address America's moral crisis—to which 5 million people responded—Wallis argues that Christians have become disconnected from Jesus and need to revisit their spiritual foundations. By framing our involvement in public life through the lens of Jesus' ministry, Wallis provides a means to measure authentic alignment with the moral and spiritual foundations of Christian faith.
As he has done throughout his career, Wallis challenges, comforts, provokes, offers solidarity, and calls us to better care for those around us.
Christ in Crisis
is a constructive field guide for all those involved in resistance and renewal initiatives within their communities in the post-2016 political context.
ABOUT THE AUTHOR
JIM WALLIS is a globally respected writer, teacher, preacher, justice advocate, regular international commentator on ethics and public life, and mentor for a new generation. He is a
New York Times
bestselling author of twelve books, including
America's Original Sin
,
God's Politics
,
The Great Awakening
, and
The Call to Conversion
. Wallis is the Founder, President, and Editor-In-Chief of Sojourners. He served on President Obama's White House Advisory Council on Faith-based and Neighborhood Partnerships and has taught faith and public life courses at Harvard and Georgetown University. "Coach Jim" also served for 22 seasons as a Little League coach for his two baseball playing sons.

$25.99
ISBN: 9780062914767
Availability: On Our Shelves Now
Published: HarperOne - September 24th, 2019
---