Lisa Honebrink and John Craft: Images of America: Phoenix Television
7PM FRIDAY, NOVEMBER 22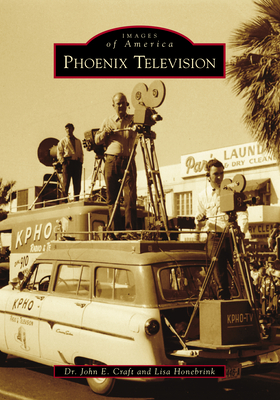 Dr. John E. Craft and Lisa Honebrink discuss and sign their book Phoenix Television, featuring stories and archival photos that let you experience the early days of TV.
Immediately following World War II, television burst on the American scene. Radio had been the popular way of receiving news and entertainment during the war years, but now, television could provide pictures to illustrate radio's programs. It was like having your own personal movie theater in your living room. Although isolated in the Sonoran Desert, Phoenix citizens were not to be denied the wonders of this new communication medium. KPHO-TV, Channel 5, signed on the air on December 4, 1949, with a selection of programs from all four television networks. Channels 12, 10, and 3 were soon to follow, and the lifestyles of the residents of Phoenix would never be the same. The flickering blue light from the Magnavox or RCA receivers danced on the curtains of the darkened living rooms all over town. Now Phoenicians could experience the televised dramas from New York City or view the films of Hollywood with just the flip of a switch--and maybe some careful adjustment of the rabbit ears.
ABOUT THE AUTHORS
Dr. John E. Craft and Lisa Honebrink both are members of the Board of the House of Broadcasting Museum in Phoenix. Craft is a member of the faculty of the Cronkite School of Journalism and Mass Communication at Arizona State University, and Honebrink has been a television producer and spokesperson as part of her public relations career in Arizona.

$21.99
ISBN: 9781467102797
Availability: On Our Shelves Now
Published: Arcadia Publishing (SC) - April 8th, 2019
---