TWEEN EVENT
Shannon Messenger
Legacy (Keeper of the Lost Cities #8)
7PM WEDNESDAY, NOVEMBER 6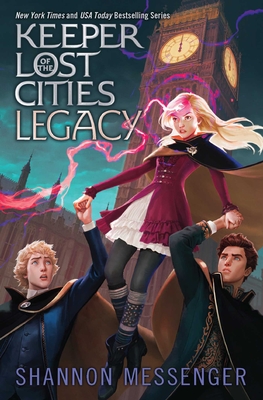 The New York Times and USA TODAY bestselling author presents the eighth installment of her Keeper of Lost Cities middle grade series.
GET YOUR BOOK AND TICKET
Order your ticket package here. We'll send you an email confirmation.
TICKET PACKAGES
→ Ticket Package 1 = $28.77: Admission for one (1) person and one (1) signed copy of Legacy.
→ Ticket Package 2 (Seating ONLY) = $10.00: Admission for one (1) person. NO BOOK.
Additional seating ticket: $5.
Limited seats available. Buy your ticket now.
ALL ORDERS MUST INCLUDE ONE BOOK + TICKET PACKAGE OR SEATING ONLY TICKET PACKAGE. ADDITIONAL TICKETS LIMITED TO ONE (1) PER BOOK PACKAGE.
Purchase tickets here.
EVENT GUIDELINES
PARKING is available near the Tempe Center for the Arts with complimentary shuttles to and from TCA. Check out the parking map here or read more online.
CHECK-IN at the Tempe Center for the Arts box office beginning at 6pm.
SEATING opens at 6pm.
PICK UP YOUR BOOK at the venue on event day.
SIGNING LINE forms after the event.
EVENT GUIDELINES may be subject to changes.
From the Tempe Arts Center: "Please note: ALL TICKET SALES ARE FINAL. REFUNDS WILL ONLY BE ISSUED UPON SHOW CANCELLATION. Everyone, including infants, requires a ticket. Pricing and schedule subject to change."
If you miss the event, tickets are non-refundable. In order to receive your book you will need to contact us within 30 days of the event. After 30 days, you will receive a trade credit to Changing Hands Bookstore for the cost of the book + tax.
ABOUT THE BOOK
Illusions shatter—and Sophie and her friends face impossible choices—in this astonishing eighth book in the
New York Times
and
USA TODAY
bestselling Keeper of the Lost Cities series.
Only this first edition includes an exclusive extra scene from Tam's point of view as well as beautiful illustrated endpapers from Shannon Messenger.
Sophie Foster wants answers. But after a lifetime of lies, sometimes the truth is the most dangerous discovery. Even the smallest secret comes with terrifying new responsibilities.
And Sophie's not the only one with blank spots in her past, or mysteries surrounding her family. She and her friends are part of something much bigger than they imagined—and their roles have already been chosen for them.
Every clue drags them deeper into the conspiracy. Every memory forces them to question everything—especially one another. And the harder they fight, the more the lines blur between friend and enemy.
ABOUT THE AUTHOR
Shannon Messenger graduated from the USC School of Cinematic Arts, where she learned—among other things—that she liked watching movies much better than making them. She's studied art, screenwriting, and film production, but she realized her real passion was writing stories for children. She's the
New York Times
and
USA TODAY
bestselling author of the award-winning middle grade series,
Keeper of the Lost Cities
, as well as the
Sky Fall
series for young adults. Her books have been featured on multiple state reading lists, published in numerous countries, and translated into many different languages. She lives in Southern California with an embarrassing number of cats. Find her online at ShannonMessenger.com.