Victor Shamas: Deep Creativity: Inside the Creative Mystery
7PM THURSDAY, NOVEMBER 21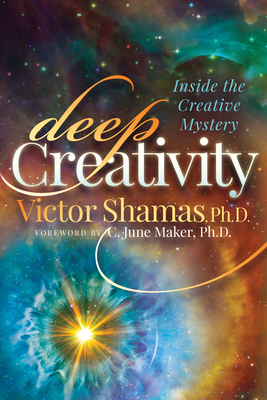 Want to be more creative? Let your body lead and your mind follow, says Dr. Victor Shamas, author of Deep Creativity: Inside the Creative Mystery.
The University of Arizona psychologist discusses his 30-year exploration of real-world creativity and shows you two practical ways that your body can lead you into the life-changing experience of creative inspiration.
Deep Creativity
reveals the findings of Victor Shamas' 30-year exploration of the creative process. Rather than observing creativity in others, he delved into the experience directly in order to uncover hidden truths and break free of common misconceptions.
Deep Creativity
turns fundamental assumptions about creativity on their head while offering fresh perspectives on the scientific method, fractals, Maslow's hierarchy of needs, plate tectonics, mind and consciousness, hero myths, the life cycle, sleep and dreams, mothers' intuition, the nature of wisdom, peak experiences, and even the Gospels. Written from a research psychologist's perspective,
Deep Creativity
portrays the creative experience as a bold adventure filled with passion, turmoil, inspiration, sacrifice, sheer joy, self-transcendence, and unconditional love.
ABOUT THE AUTHOR
Dr. Victor Shamas is a psychologist, author, speaker, and explorer of inner realms. He has devoted his life to understanding the experience of inspiration in its various facets. His most recent book,
Deep Creativity: Inside the Creative Mystery,
is the culmination of his 30-year study of the role of inspiration in the creative process. Since 1996, Victor has tapped into the inspirational power of sacred chanting through Global Chant, a network of chant circles he co-founded and wrote about in his first book,
The Chanter's Guide
. In 2008, Victor traveled to India to study the Hindu concept of lila, or divine play, leading him to write
The Way of Play
and to start a Tucson-based non-profit called PlayHaven, which promotes free-form non-competitive play as a path to inspiration. His third book,
Repose: The Potent Pause
, co-authored with health psychologist Jhan Kold, offers readers a simple yet effective tool, called Repose, that can induce inspiring bodily sensations with minimal effort and at no cost. His research has shown that Repose can reduce stress, elevate mood, increase productivity, and improve health. Today, Victor finds his greatest inspiration in his passionate and devoted love for his wife Maria, who is one of the nation's leading yoga therapists and educators. Together, they are working on a new book,
AUM Tantra
, which offers a body-centered approach to inspiration.

$17.95
ISBN: 9781683505419
Availability: On Our Shelves Now
Published: Morgan James Publishing - March 6th, 2018
---