Online orders for this event have been switched off. Additional tickets will be available at Changing Hands Phoenix.



Laurie Notaro
Crossing the Horizon
7PM THURSDAY, OCTOBER 6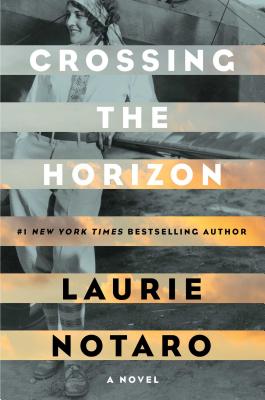 #1 New York Times bestselling author of The Idiot Girls' Action-Adventure Club presents her debut historical novel that tells the true, little-known story of three aviatrixes in a race to be the first woman to fly across the Atlantic.
GET YOUR BOOK AND TICKET
Click "add to cart" at the bottom of the page. We'll send you an email confirmation, plus a second email with more details (usually within 24 hours).
EVENT GUIDELINES
Seating is determined by letter group (indicated on tickets) and opens at 6:30pm.
→ $26.00 + tax: One (1) copy of Crossing the Horizon and admission for two (2) people
Signing line forms after the event by letter group printed on tickets.
Event guidelines may be subject to changes.
CAN'T MAKE IT?
Click "add to cart" below on the signed copy of
Crossing the Horizon
and we'll have it signed and reserved for you. We also ship anywhere in the US and to most international locations!
ABOUT THE BOOK
Ten thousand feet in the sky, aviatrixes from London to Paris to New York—fueled by determination and courage—have their eyes on the century's biggest prize. The year is 1927, and Amelia Earhart has not yet made her record-breaking cross-Atlantic flight. Who will follow in Charles Lindbergh's footsteps and make her own history?
Three women's names are splashed daily across the front page: Elsie Mackay, daughter of an Earl, is the first Englishwoman to get her pilot's license. Mabel Boll, a glamorous society darling and former cigar girl, is ardent to make the historic flight. Beauty pageant contestant Ruth Elder uses her winnings for flying lessons and becomes the preeminent American girl of the sky.
Inspired by true events and real people, Notaro vividly evokes this exciting time as her determined heroines vie for the record. Through striking photos, meticulous research, and atmospheric prose, Notaro brings Elsie, Mabel, and Ruth to life, pulling us back in time as the pilots collide, struggle, and literally crash in the chase for fame and a place in aviation history.
ABOUT THE AUTHOR
LAURIE NOTARO was a reporter and columnist for
The Arizona Republic
. She is the
New York Times
bestselling author of
The Idiot Girls' Action Adventure Club
,
Autobiography of a Fat Bride
,
I Love Everybody and Other Atrocious Lies
,
We Thought You Would Be Prettier
,
Idiot Girls' Christmas
,
There's a Slight Chance I Might Be Going to Hell
,
The Idiot Girls and the Flaming Tantrum of Death
,
Spooky Little Girl
,
It Looked Different on the Model
, and
The Potty Mouth at the Table
. She lives in Eugene, Oregon.