POETRY
Marsha de la O: Antidote for Night
Sally Ball: Wreck Me
7PM SATURDAY, OCTOBER 15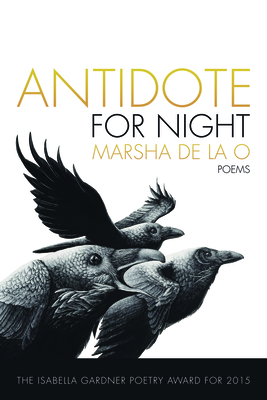 Poet Marsha de la O presents her Isabella Gardner Award-winning collection Antidote for Night, "a book of remedies for dire circumstances, rock-bottom realities, and the unrelenting weight of mortality." Joining her is poet and ASU associate professor of English Sally Ball, who reads from Wreck Me and from new work, including poems for a limited edition artist book HOLD (in progress) with the Czech printmaker Jan Vicar.
Marsha de la O - The reading will explore the interconnection between human and animal nature through poems on our commonalities in shared environments, wild and domestic—coyote, possum, squirrel, honeybee—in a certain sense we all live together. In early human societies, shamans made art and performed rituals to cross the divide between human and animal. Poetry opens invisible doors; poetry makes the leap.
David Wojahn writes, "The poetry of Marsha de la O continually alternates between two frequencies—the quotidian and the strange. And like Tranströmer or Bishop, she is a fearless investigator of those luminal states where everyday reality turns to terror—or to transcendence.
Antidote for Night
is, quite simply, a remarkable accomplishment."
Ball's work explores the urgent desire for understanding that is common to both science and art: Where do these fields overlap? What ambition drives each practitioner? What can art actually do?
Wreck Me
is focused on organ transplant, the body as a site of experiment and even violent intervention; Ball's new work reckons with climate anxiety, addressing conservation (and a sense of futility), nuclear power, and increasing migrancy across the world. With attention to Arizona ("to plant a rose, you need a jackhammer") as well as to global circumstances ("the oxen in Ghana / who graze fields heaped / with motherboards"), the poems record and explore the intersection of environmental, humanitarian, and personal concerns.
"While reading Sally Ball's poetry, one asks questions about the place of poetry and science as investigative techniques—and that is why Sally Ball always makes my list as one of the most interesting and important young poets working in the U.S." —Scott Hightower on
Wreck Me
ABOUT THE POETS
MARSHA DE LA O holds a Master of Fine Arts degree from Vermont College. Her latest book,
Antidote for Night
, won the 2015 Isabella Gardner Award and was published by BOA Editions. Her first book,
Black Hope
, was awarded the New Issues Press Poetry Prize and an Editor's Choice Small Press Book Award. Her poems have recently appeared or are forthcoming in
Apercus Quarterly, Bosque,
and the
New Yorker.
She lives in Ventura, California, with her husband, poet and editor Phil Taggart. Together, they produce poetry readings and events in Ventura County and are also the editors and publishers of the literary journal
Askew.
SALLY BALL is the author of
Wreck Me
and
Annus Mirabilis
. She has published essays and reviews in
NOR
,
Pleiades
,
the Review of Contemporary Fiction
,
The Volta
, and elsewhere. Her poems have appeared in
The American Poetry Review
,
Ecotone
,
Harvard Review
, and other magazines, as well as online at Narrative and Slate, and in
The Best American Poetry
. An associate professor of English at Arizona State University, Ball is also an associate director of Four Way Books. She has received fellowships from the Arizona Commission on the Arts, the Bread Loaf Writers' Conference, CAMAC Centre d'Art, the James Merrill House, and the Ucross Foundation.

$16.00

ISBN: 9781938160813
Availability: Not Available In-Store - Usually Ships from Warehouse in 1-5 Days
Published: BOA Editions - September 8th, 2015
---
$16.95

ISBN: 9780981987682
Availability: Special Order - Subject to Availability
Published: Barrow Street Press - April 15th, 2013
---