ONLINE ORDERING HAS BEEN TURNED OFF FOR THIS EVENT
Get your book and ticket in-store before the event, or by phone at 480.730.0205.
TEEN EVENT
P.C. Cast
Moon Chosen
7PM WEDNESDAY, OCTOBER 26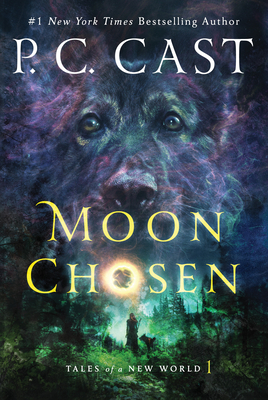 The #1 New York Times and USA Today bestselling award-winner presents her new epic fantasy about a young woman facing her destiny and protecting her people.
GET YOUR BOOK AND TICKET
Click "add to cart" at the bottom of the page. We'll send you an email confirmation, plus a second email with more details (usually within 24 hours).
EVENT GUIDELINES
Seating is determined by letter group (indicated on tickets) and opens at 6:30pm.
→ $18.99+ tax: One (1) copy of Moon Chosen and admission for two (2) people
Signing line forms after the event by letter group printed on tickets.
Event guidelines may be subject to changes.
CAN'T MAKE IT?
Click "add to cart" below on the signed copy of
Moon Chosen
and we'll have it signed and reserved for you. We also ship anywhere in the US and to most international locations!
ABOUT THE BOOK
#1
New York Times
bestselling author, P.C. Cast, brings us a new epic fantasy set in a world where humans, their animal allies, and the earth itself has been drastically changed. A world filled with beauty and danger and cruelty.
Mari is an Earth Walker, heir to the unique healing powers of her Clan; but she has cast her duties aside, until she is chosen by a special animal ally, altering her destiny forever. When a deadly attack tears her world apart, Mari reveals the strength of her powers and the forbidden secret of her dual nature as she embarks on a mission to save her people. It is not until Nik, the son of the leader from a rival dominating clan strays across her path, that Mari experiences something she has never felt before.
Now, darkness is coming, and with it, a force, more terrible and destructive than the world has ever seen, leaving Mari to cast the shadows from the earth. By forming a tumultuous alliance with Nik, she must make herself ready. Ready to save her people. Ready to save herself and Nik. Ready to embrace her true destiny and obliterate the forces that threaten to destroy them all.
ABOUT THE AUTHOR
P.C. CAST is the author of the House of Night novels, including
Marked
,
Betrayed
,
Chosen
, and
Untamed
. She was born in the Midwest, and grew up being shuttled back-and-forth between Illinois and Oklahoma, which is where she fell in love with Quarter Horses and mythology. After high school she joined the United States Air Force and began public speaking and writing. After her tour in the USAF, she taught high school for 15 years before retiring to write full time. Ms. Cast is a #1
New York Times
and
USA Today
bestselling author and a member of the Oklahoma Writers Hall of Fame. With more than 20 million copies in print in over 40 countries, her novels have been awarded the prestigious Oklahoma Book Award, YALSA Quick Pick for Reluctant Readers, Romantic Times Reviewers' Choice Award, the Prism, Holt Medallion, Daphne du Maurier, Booksellers' Best, and the Laurel Wreath. Ms. Cast lives in Oregon surrounded by beloved cats, dogs, horses, and family.