CO-PRESENTED BY ASU'S CENTER FOR SCIENCE AND IMAGINATION
Deji Bryce Olukotun
After the Flare and Nigerians in Space
7PM THURSDAY, OCTOBER 19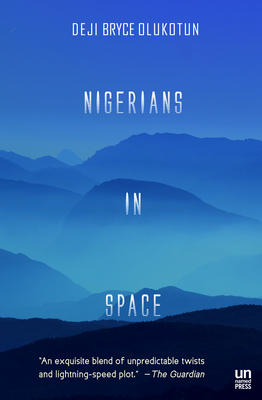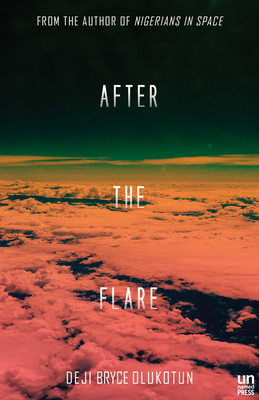 CO-PRESENTED BY:



Human rights attorney and author Deji Olukotun presents the much anticipated sequel to his thriller Nigerians in Space, in conversation with Ed Finn, the founding director of the Center for Science and the Imagination at ASU.

About Nigerians in Space:
1993. Houston. Dr. Wale Olufunmi, lunar rock geologist, has a life most Nigerian immigrants would kill for, but then most Nigerians aren't Wale--a great scientific mind in exile with galactic ambitions. Then comes an outlandish order: steal a piece of the moon. With both personal and national glory at stake, Wale manages to pull off the near impossible, setting out on a journey back to Nigeria that leads anywhere but home. Compelled by Wale's impulsive act, Nigerians traces arcs in time and space from Houston to Stockholm, from Cape Town to Bulawayo, picking up on the intersecting lives of a South African abalone smuggler, a freedom fighter's young daughter, and Wale's own ambitious son. Deji Olukotun's debut novel defies categorization--a story of international intrigue that tackles deeper questions about exile, identity, and the need to answer an elusive question: what exactly is brain gain?

About After the Flare:
A catastrophic solar flare reshapes our world order as we know it - in an instant, electricity grids are crippled, followed by devastating cyberattacks that paralyze all communication. With America in chaos, former NASA employee Kwesi Bracket works at the only functioning space program in the world, which just happens to be in Nigeria. With Europe, Asia, and the U.S. knocked off-line, and thousands of dead satellites about to plummet to Earth, the planet's only hope rests with the Nigerian Space Program's plan to launch a daring rescue mission to the International Space Station. Bracket and his team are already up against a serious deadline, but life on the ground is just as disastrous after the flare. Nigeria has been flooded with advanced biohacking technologies, and the scramble for space supremacy has attracted dangerous peoples from all over Africa. What's more: the militant Islamic group Boko Haram is slowly encroaching on the spaceport, leaving a trail of destruction, while a group of nomads has discovered an ancient technology more powerful than anything Bracket's ever imagined. With the clock ticking down, Bracket - helped by a brilliant scientist from India and an eccentric lunar geologist - must confront the looming threats to the spaceport in order to launch a harrowing rescue mission into space. In this sequel to Nigerians in Space, Deji Bryce Olukotun poses deep questions about technology, international ambition, identity, and space exploration in the 21st century.

FREE PARKING / LIGHT RAIL
There is plenty of free public parking west of Changing Hands Phoenix, at 400 and 444 West Camelback. Additional free public parking across Camelback to the south.
Don't want to drive? Take the Light Rail! It lets off at the Central Avenue/Camelback Park-and-Ride, which has hundreds of free parking spaces across the street from Changing Hands.
ABOUT THE AUTHOR
DEJI BRYCE OLUKOTUN is the author of two novels and his fiction has appeared in three different book collections. His novel
Nigerians in Space
, a thriller about brain drain from Africa, was published by Unnamed Press in 2014.
Deji graduated from the MA in Creative Writing at the University of Cape Town. He also holds degrees from Yale College and Stanford Law School.
His short story We Are the Olfanauts was published in the fiction collection
Watchlist: 32 Short Stories by Persons of Interest
in 2015 (O/R Books) and in 2016 (Catapult Books). His work is also featured in the 2016 science fiction collection
Invaders: 22 Tales from the Outer Limits of Literature
(Tachyon) alongside authors Junot Diaz and Jonathan Lethem. This short story, which described a world dominated by scented social media, led to Olukotun being selected as a judge for the Art and Olfaction perfumery contest in 2016.
Deji's work has been featured in
Electric Literature
,
Quartz
,
Vice
,
Slate
,
GigaOm
,
The New York Times
,
The Los Angeles Times
,
The Los Angeles Review of Books
, the
Wall Street Journal
,
National Public Radio
,
The Atlantic
,
Guernica
,
The Millions
,
World Literature Today
,
ESPN
,
Chimurenga
,
Global Voices
,
Joyland
,
Words Without Border
s,
Alternet
,
Huffington Post
,
PEN America
,
The London Magazine
,
Molussus
, and
Men's Health
. He has served as a juror for the Neustadt Festival of International Literature and for the Art and Olfaction contest, a global perfumery competition.
Deji is an attorney with a background in human rights and technology. He has traveled to over 25 countries and offers deep work experience in South Africa, Myanmar, and Haiti. He currently works at the digital rights organization Access Now, where he drives campaigns fighting internet shutdowns and online censorship. Before that, he fought for free expression and the defense of writers around the world at PEN American Center with support from the Ford Foundation.

$16.99

ISBN: 9781939419019
Availability: Not Available In-Store - Usually Ships from Warehouse in 1-5 Days
Published: Unnamed Press - February 1st, 2014
---

$16.99

ISBN: 9781944700188
Availability: Not Available In-Store - Usually Ships from Warehouse in 1-5 Days
Published: Unnamed Press - September 12th, 2017
---