FAMILY EVENT
Storytime with Sharon Skinner: Rocket Shoes
10AM SATURDAY, OCTOBER 14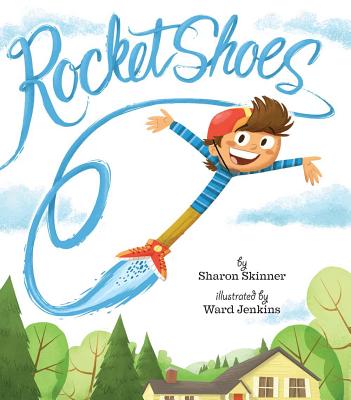 Join us in Tempe for a special storytime with author Sharon Skinner and her new picture book, a rhyming story for every kid who wants to fly--and wonders when it's okay to break the rules.
"Shoes with engines, springs and sprockets, kick-start heels, and shoe-size rockets."
Like all children, Jose dreams of flying. So he works hard to buy a pair of rocket shoes that let him jet into the atmosphere. But all those spins, kicks, and airborne tricks cause such a ruckus around town that the mayor bans the shoes and shuts down the factory. Then, one day, during a terrible snowstorm, Jose hears a cry: his neighbor's in danger--and he can only help her if he puts on the shoes. Will Jose dare to break the rules and save the day?
ABOUT THE AUTHOR
SHARON SKINNER grew up in a small town in northern California where she spent most of her time reading books, making up plays, and writing stories about fantastical creatures, aliens, monsters and, of course, heroes. She holds an MA in Creative Writing, a BA in English, and a Poetic License, and served for eight years as the Executive Editor of
Anthology
magazine, a small-press literary magazine published in Mesa, AZ. Sharon is an active member of SCBWI (Society of Children's Book Writers and Illustrators) and serves as the Assistant Regional Advisor for SCBWI AZ. Her published work includes The Healer's Legacy (YA Fantasy, 2012), The Nelig Stones (MG Fantasy, 2013), Mirabella and the Faded Phantom (MG Paranormal, 2014), and The Matriarch's Devise (YA Fantasy, 2015). She is also the coauthor of The Chronicles of Tavara Tinker series.

$16.95
ISBN: 9781454921523
Availability: Special Order - Subject to Availability
Published: Sterling Children's Books - October 3rd, 2017
---