Ryan B. Clark: Spirits of Jerome
7PM FRIDAY, OCTOBER 27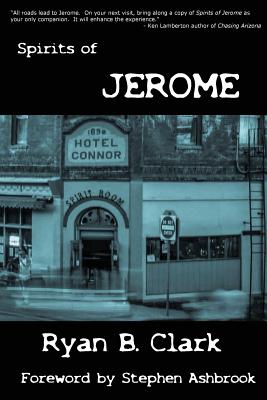 The local author visits to share spooky stories from his new self-published book.
Spirits of Jerome
explores the haunted legends of Jerome, Arizona through ten loosely connected short stories, all of which use the ghostly setting to explore the casualties of art and the search for inspiration; the angst of coming to terms with one's past and dealing with one's ghosts; the illusive nature of happiness and the puzzle of its attainability; the eternal transformations of love; and the immorality and mystical nature of music.
ABOUT THE AUTHOR
RYAN B. CLARK lives, rides, and writes in his native Arizona. Ryan spent much of his young professional life as a teacher and debate coach, but he now works at Costco and writes full time. Ryan has degrees in English Secondary Education (B.A. Arizona State University), Creative Writing (M.A. Lacrosse University), and Human Dynamics/ Organizational Intelligence (M.A. Western International University). A writer with several published works in the rear view, Ryan now expresses his work independently through Ghost Rider Press and
Online Magazine: Keep The Greasy Side Down
. An avid motorcyclist for over twenty years, Ryan explores his beautiful home state, looking for tales that take his readers deep into the mystique of the scenic and rugged state.
Spirits of Jerome
is the first in a series of short story novellas exploring the secret and supernatural history of Arizona.

$9.99
ISBN: 9780692915363
Availability: Not Available In-Store - Usually Ships from Warehouse in 1-5 Days
Published: Ghost Writer Press - September 29th, 2017
---