ONLINE ORDERING HAS BEEN TURNED OFF FOR THIS EVENT
Get your book and ticket in-store before the event, or by phone at 480.730.0205.
Thomas Moore
Ageless Soul: The Lifelong Journey Toward Meaning and Joy
7PM TUESDAY, OCTOBER 17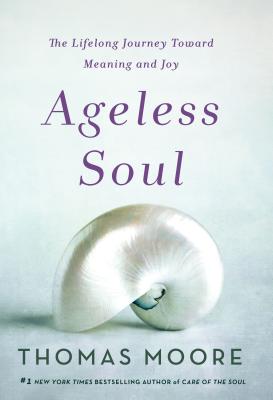 The New York Times bestselling author of Care of the Soul discusses his latest, about aging and how to embrace the richness of experience and how to take life on, accept invitations to new vitality, and feel fulfilled while getting older.
GET YOUR BOOK AND TICKET
Click "add to cart" at the bottom of the page. We'll send you an email confirmation, plus a second email with more details (usually within 24 hours).
EVENT GUIDELINES
Seating is determined by letter group (indicated on tickets) and opens at 6:30pm.
→ $26.99 + tax: One (1) copy of Ageless Soul and admission for two (2) people
Signing line forms after the event by letter group printed on tickets.
Event guidelines may be subject to changes.
Refunds will not be issued within three days of the event.
CAN'T MAKE IT?
Click "add to cart" below on the signed copy of
Ageless Soul
and we'll have it signed and reserved for you. We also ship anywhere in the US and to most international locations!
ABOUT THE BOOK
In
Ageless Sou
l, Moore reveals a fresh, optimistic, and rewarding path toward aging, one that need not be feared, but rather embraced and cherished. In Moore's view, aging is the process by which one becomes a more distinctive, complex, fulfilled, loving, and connected person.
Using examples from his practice as a psychotherapist and teacher who lectures widely on the soul of medicine and spirituality, Moore argues for a new vision of aging: as a dramatic series of initiations, rather than a diminishing experience, one that each of us has the tools―experience, maturity, fulfillment―to live out. Subjects include:
• Why melancholy is a natural part of aging, and how to accept it, rather than confuse it with depression
• The vital role of the elder and mentor in the lives of younger people
• The many paths of spiritual growth and learning that open later in life
• Sex and sensuality
• Building new communities and leaving a legacy
ABOUT THE AUTHOR
THOMAS MOORE is the
New York Times
bestselling author of
Care of the Soul
, as well as many other books on deepening soul and cultivating a mature spiritual life, three of which have received the Books for a Better Life Award. At turns he has been a monk, a musician, a university professor, and a psychotherapist. Today he lectures widely on creating a more soulful world and on spirituality. He lives in New Hampshire.