HOSTED BY JAVELINA CEO CATHERINE ALONZO
Mind Your Business Book Club - To Sell is Human by Daniel Pink
6:30PM MONDAY, OCTOBER 8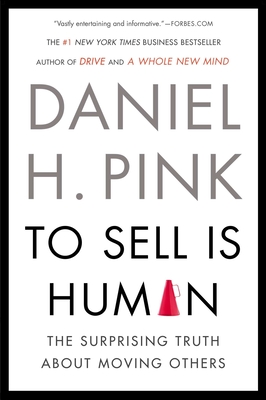 Introducing "Mind Your Business," a book club for business leaders, managers, entrepreneurs—anyone interested in the art and science of doing business!
On the second Monday of each month, Javelina CEO Catherine Alonzo leads a discussion of a business book at Changing Hands Phoenix, home of our First Draft Book Bar. Ranging from how to build and scale a business to how to lead a team, you'll read business book classics as well as new hits. (And get 10% off when you purchase the selection of the month at Changing Hands.)
ABOUT THE BOOK
According to the U.S. Bureau of Labor Statistics, one in nine Americans works in sales. Every day more than fifteen million people earn their keep by persuading someone else to make a purchase.
But dig deeper and a startling truth emerges:
Yes, one in nine Americans works in sales.
But so do the other eight.
Whether we're employees pitching colleagues on a new idea, entrepreneurs enticing funders to invest, or parents and teachers cajoling children to study, we spend our days trying to move others. Like it or not, we're all in sales now.
To Sell Is Human
offers a fresh look at the art and science of selling. As he did in
Drive
and
A Whole New Mind
, Daniel H. Pink draws on a rich trove of social science for his counterintuitive insights. He reveals the new ABCs of moving others (it's no longer "Always Be Closing"), explains why extraverts don't make the best salespeople, and shows how giving people an "off-ramp" for their actions can matter more than actually changing their minds.
Along the way, Pink describes the six successors to the elevator pitch, the three rules for understanding another's perspective, the five frames that can make your message clearer and more persuasive, and much more. The result is a perceptive and practical book--one that will change how you see the world and transform what you do at work, at school, and at home.

$17.00

ISBN: 9781594631900
Availability: On Our Shelves Now
Published: Riverhead Books - December 3rd, 2013
---