Sayu Bhojwani: People Like Us: The New Wave of Candidates Knocking at Democracy's Door
7PM TUESDAY, OCTOBER 9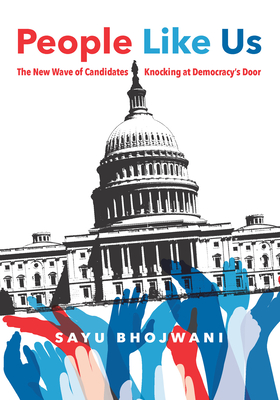 Sayu Bhojwani, founder and President of New American Leaders, presents her book about political newcomers (sometimes also newcomers to America) who are knocking down built-in barriers to creating better government.
America's political leadership remains overwhelmingly white, male, moneyed, and Christian. Even at the local and state levels, elected office is inaccessible to the people it aims to represent. But in
People Like Us
, Bhojwani shares the stories of a diverse range of local and state politicians who are challenging the status quo, winning against all odds, and leaving a path for others to follow. Bhojwani shines a light on the political, systemic, and cultural roadblocks that prevent government from effectively representing a rapidly changing America, and offers forward-thinking solutions on how to get rid of them.
People Like Us
serves as a road map for the burgeoning democracy that has been a long time in the making: inclusive, multiracial, and unstoppable.
PARKING / LIGHT RAIL
Don't want to drive? Take the Light Rail! It lets off at the Central Avenue/Camelback Park-and-Ride, which has hundreds of free parking spaces across the street from Changing Hands.
ABOUT THE AUTHOR
SAYU BHOJWANI is the Founder and President of New American Leaders, which works across the country to build the power and potential of first- and second-generation Americans. She served as New York City's first Commissioner of Immigrant Affairs and is the founder of South Asian Youth Action, a community-based organization in Queens. Sayu earned a PhD in Politics and Education from Columbia University, where her research focused on immigrant political participation. Her TED talk focuses on the importance of immigrants to American democracy, and her work to build a more inclusive democracy has been featured in
The Wall Street Journal
and in
The New York Times
. Her book,
People Like Us: Knocking at Democracy's Door
, will be published by The New Press in October 2018. An immigrant of Indian descent, she grew up in Belize and now lives in New York City with her husband and child.

$24.99
ISBN: 9781620974148
Availability: Not Available In-Store - Usually Ships from Warehouse in 1-5 Days
Published: New Press - October 16th, 2018
---