Terry Brooks: Street Freaks
7PM MONDAY, OCTOBER 15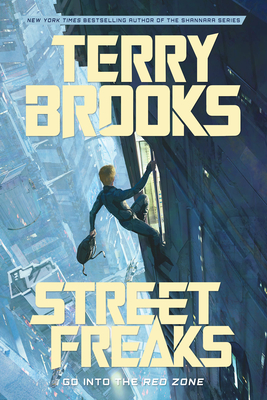 The New York Times bestselling author of the Shannara series presents his latest, a thrilling futuristic science fiction novel.
It begins with a dire call—right before his father disappears and his skyscraper home's doors explode inward.
Street Freaks
is the kind of thrilling futuristic story only
New York Times
bestselling author Terry Brooks can tell.
"Go into the Red Zone. Go to Street Freaks," his father directs Ashton Collins before the vid feed goes suddenly silent. The Red Zone is the dangerous heart of mega-city Los Angeles; it is a world Ash is forbidden from and one he knows little about. But if he can find Street Freaks, the strangest of aid awaits—human and barely human alike. As Ash is hunted, he must unravel the mystery left behind by his father and discover his role in this new world.
Brooks has long been the grand master of fantasy. Now he turns his hand to science fiction filled with what his readers love best: complex characters, extraordinary settings, exciting action, and a page-turning story.
PARKING / LIGHT RAIL
Don't want to drive? Take the Light Rail! It lets off at the Central Avenue/Camelback Park-and-Ride, which has hundreds of free parking spaces across the street from Changing Hands.
ABOUT THE AUTHOR
TERRY BROOKS is the
New York Times
bestselling author of more than twenty-five books, including the Genesis of Shannara novels
Armageddon's Children
and
The Elves of Cintra
;
The Sword of Shannara
; the Voyage of the Jerle Shannara trilogy:
Ilse Witch
,
Antrax
, and
Morgawr
; the High Druid of Shannara trilogy:
Jarka Ruus
,
Tanequil
, and
Straken
; the nonfiction book
Sometimes the Magic Works: Lessons from a Writing Life
; and the novel based upon the screenplay and story by George Lucas,
Star Wars(R): Episode I The Phantom Menace.(tm)
His novels
Running with the Demon
and
A Knight of the Word
were selected by the Rocky Mountain News as two of the best science fiction/fantasy novels of the twentieth century. The author was a practicing attorney for many years but now writes full-time. He lives with his wife, Judine, in the Pacific Northwest.

$28.00
ISBN: 9781944145200
Availability: On Our Shelves Now
Published: Grim Oak Press - October 2nd, 2018
---