Andrea Brundage, MBA: Simplify Your Life
7PM WEDNESDAY, OCTOBER 16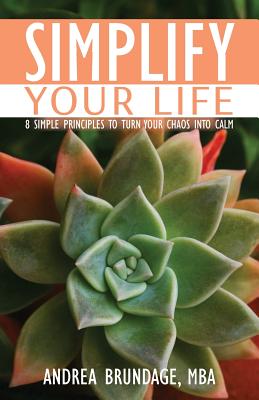 Local author and professional organizer Andrea Brundage shares her book, Simplify Your Life: 8 Simple Principles to Turn Your Chaos into Calm.
Are you cluttered and overwhelmed? If so, Simplify Your Life: 8 Simple Principles to Turn Your Chaos into Calm is full of easy-to-implement tips, techniques, and actionable exercises intended to inspire, motivate, empower, and guide readers through any organizational challenge. Don't forget to pick up the perfect companion to the book Simplify Your Life Journal, where you can journal and track all your actionable exercises
Through her straight-forward style, Andrea Brundage, Professional Organizer, Bringer of Calm and speaker, offers you inspiration, encouragement, and hope. She pulls the covers back, opens the doors and drawers, and gets into it up to her elbows right there beside you.
Need help making decisions? Andrea shares her signature 4 Q's to help you make decisions about what stays and what goes. Her 4 P's is a simple process that will help you maintain the organization you've created. Need help with time management? Apply the P's and Q's to calendar commitments, too.
Andrea has worked with hundreds of clients and has given talks on organizing to thousands more. If you've ever attended one of her workshops or seen her television appearances, you've probably heard her say, "There is no magic. There's simply a desire to improve the current condition, a commitment to do the work, and a willingness to maintain order."
In Simplify Your Life you will learn how to:
Simplify your life
Identify problems areas
Make "me" time
Plan ahead
Let go of excess
Involve your people
Find help, and be inspired because
You can do it
If you're tired of the chaos and ready for some calm, Simplify Your Life: 8 Simple Principles to Turn Your Chaos into Calm can help.

ABOUT THE AUTHOR
Andrea Brundage has been helping people who struggle with clutter, chaos, and overwhelm for over 14 years. As a professional organizer, Andrea has served hundreds of clients from all walks of life. As an experienced speaker, she loves sharing her purpose and passion for releasing things that no longer serve us well. Less stuff equates to less stress. Andrea poses the question, "Do you want to Simplify Your Life, and are you ready to turn your chaos into calm?".