Augusten Burroughs
Toil & Trouble: A Memoir
7PM WEDNESDAY, OCTOBER 9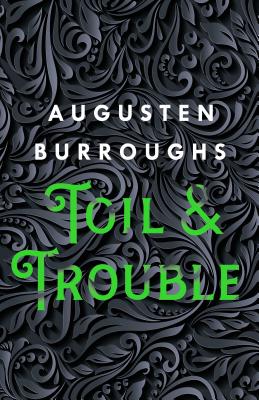 The #1 New York Times bestselling author visits Changing Hands Tempe with a stunning new memoir that is tender, touching ... and just a little spooky.
GET YOUR BOOKS AND TICKETS
Order your ticket package(s) at the bottom of the page or directly on Eventbrite. We'll send you an email confirmation. Want additional signed copies of Toil & Trouble? Just add them to your Eventbrite order at checkout. You can pick them up at the bookstore on event night at check-in.
TICKET PACKAGES
→ Ticket Package 1: $30.26 + fees: Admission for one (1) person and one (1) signed copy of Toil & Trouble.
→ Ticket Package 2: $34.26 + fees: Admission for two (2) people and one (1) signed copy of Toil & Trouble.
Purchase below (at the bottom of the page).
EVENT GUIDELINES
CHECK-IN at the front information counter in Changing Hands Tempe beginning at 6:30pm.
SEATING opens at 6:30pm and is determined by letter group printed on signing line voucher handed out at check-in.
PICK UP YOUR BOOK(S) at Changing Hands Tempe on event day beginning at 6:30pm.
SIGNING LINE forms after the event by letter group printed on signing line vouchers handed out at check-in.
EVENT GUIDELINES may be subject to changes.
REFUNDS will not be issued within seven days of the event.
If you miss the event, tickets are non-refundable. In order to receive your book you will need to contact us within 30 days of the event. After 30 days, you will receive a trade credit to Changing Hands Bookstore for the cost of the book + tax.
CAN'T MAKE IT?
Call 480.730.0205 to order a signed copy of
Toil & Trouble
and we'll have it signed and reserved for you. We also ship anywhere in the US and to most international locations!
ABOUT THE BOOK
"Here's a partial list of things I don't believe in: God. The Devil. Heaven. Hell. Bigfoot. Ancient Aliens. Past lives. Life after death. Vampires. Zombies. Reiki. Homeopathy. Rolfing. Reflexology. Note that 'witches' and 'witchcraft' are absent from this list. The thing is, I wouldn't believe in them, and I would privately ridicule any idiot who did, except for one thing: I am a witch."
For as long as Augusten Burroughs could remember, he knew things he shouldn't have known. He manifested things that shouldn't have come to pass. And he told exactly no one about this, save one person: his mother. His mother reassured him that it was all perfectly normal, that he was descended from a long line of witches, going back to the days of the early American colonies. And that this family tree was filled with witches. It was a bond that he and his mother shared--until the day she left him in the care of her psychiatrist to be raised in his family (but that's a whole other story). After that, Augusten was on his own. On his own to navigate the world of this tricky power; on his own to either use or misuse this gift.
From the hilarious to the terrifying, Toil & Trouble is a chronicle of one man's journey to understand himself, to reconcile the powers he can wield with things with which he is helpless. There are very few things that are coincidences, as you will learn in Toil & Trouble. Ghosts are real, trees can want to kill you, beavers are the spawn of Satan, houses are alive, and in the end, love is the most powerful magic of all.
ABOUT THE AUTHOR
Augusten Burroughs
is the author of
Running with Scissors
,
Dry
,
Magical Thinking: True Stories
,
Possible Side Effects
,
A Wolf at the Table
and
You Better Not Cry
. He is also the author of the novel
Sellevision
, which has been optioned for film. The film version of
Running with Scissors
, directed by Ryan Murphy and produced by Brad Pitt, was released in October 2006 and starred Joseph Cross, Brian Cox, Annette Bening (nominated for a Golden Globe for her role), Alec Baldwin and Evan Rachel Wood. Augusten's writing has appeared in numerous magazines and newspapers around the world including
The New York Times
and
New York Magazine
. In 2005
Entertainment Weekly
named him one of "The 25 Funniest People in America." He resides in New York City and Western Massachusetts.