Dave Barry and Adam Mansbach
A Field Guide to the Jewish People: Who They Are, Where They Come From, What to Feed Them . . . and Much More. Maybe Too Much More
7PM WEDNESDAY, OCTOBER 23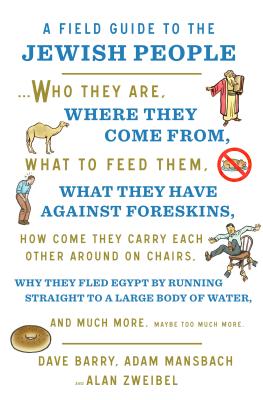 Pulitzer Prize-winning humorist Dave Barry and co-author Adam Mansbach (#1 New York Times bestselling author of Go the F**k to Sleep) share their hilarious guide to everything you need to know about Jewish history, holidays, and traditions.
GET YOUR BOOKS AND TICKETS
Order your ticket package(s) at the bottom of the page or directly on Eventbrite. We'll send you an email confirmation. Want additional signed copies of A Field Guide to the Jewish People? Just add them to your Eventbrite order at checkout. You can pick them up at the bookstore on event night at check-in.
TICKET PACKAGES
→ General Admission: $28.10 + fees: Admission for one (1) person and one (1) signed copy of A Field Guide to the Jewish People.
Purchase below (at the bottom of the page).
EVENT GUIDELINES
CHECK-IN at the front information counter in Changing Hands Tempe beginning at 6:30pm.
SEATING opens at 6:30pm and is determined by letter group printed on signing line voucher handed out at check-in.
PICK UP YOUR BOOK at Changing Hands Tempe on event day beginning at 6:30pm.
SIGNING LINE forms after the event by letter group printed on signing line vouchers handed out at check-in.
EVENT GUIDELINES may be subject to changes.
REFUNDS will not be issued within seven days of the event.
CAN'T MAKE IT?
Call 480.730.0205 to order a signed copy of
A Field Guide to the Jewish People
and we'll have it signed and reserved for you. We also ship anywhere in the US and to most international locations!
ABOUT THE BOOK
Why do random Jewish holidays keep springing up unexpectedly? Why are yarmulkes round? Who was the first Jewish comedian? What's "Christian humor" and have you ever even heard of that phrase? Who is "the Golem" and whom do you want it to beat up?
These baffling questions and many more are answered by comedy legends Dave Barry, Adam Mansbach, and Alan Zweibel, two-thirds of whom are Jewish. In A Field Guide to the Jewish People the authors dissect every holiday, rite of passage, and tradition, unravel a long and complicated history, and tackle the tough questions that have plagued Jews and non-Jews alike for centuries.
Combining the sweetness of an apricot rugelach with the wisdom of a matzoh ball, this is the last book on Judaism that you will ever need. So gather up your chosen ones, open a bottle of Manischewitz, and get ready to laugh as you finally begin to understand the inner-workings of Judaism.


ABOUT THE AUTHOR
Dave Barry is a Pulitzer Prize–winning humor writer whose columns and essays have appeared in hundreds of newspapers over the past thirty-five years. He has also written a number of New York Times bestselling humor books, including Live Right and Find Happiness (Although Beer Is Much Faster).

Adam Mansbach is the #1 New York Times bestselling author of Go the F*** to Sleep and You Have to F****** Eat, as well as the California Book Award–winning novel The End of the Jews, a dozen other books, and the movie Barry. His work, which has been translated into more than forty languages, has appeared in The New Yorker, The New York Times Book Review, Esquire, and The Believer and on National Public Radio's All Things Considered and This American Life.