CO-PRESENTED BY ASU CENTER FOR SCIENCE AND AUTHOR PANEL AND BOOKSIGNING
IN CONVERSATION WITH ASU PROFESSORS DIANA BOWMAN AND VICTORIA JACKSON
Future Tense Fiction Stories of Tomorrow: Paolo Bacigalupi and Maureen F. McHugh
7PM THURSDAY, OCTOBER 10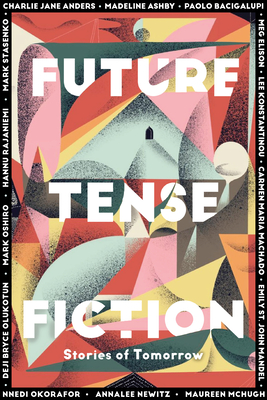 ASU Center of Science and the Imagination brings authors Paolo Bacigalupi and Maureen F. McHugh to Changing Hands Phoenix to celebrate the launch of Future Tense Fiction, an anthology of new Science Fiction short stories.
This dynamic, dud-free anthology of 14 short stories written by some of speculative fiction's greats provides gripping, convincing glimpses into various near futures that explore the interrelated advancement of technology, society, and human nature. In Nnedi Okorafor's "Mother of Invention," an abandoned pregnant woman's life is endangered because of super-plants causing terrible allergies. Her hopelessness is balanced with the optimism of her smart house. The story is quiet and hopeful, and explores friendship and family. Meg Elison's heart-wrenching "Safe Surrender," in which humans intermarry and interbreed with aliens, looks at the stories people tell themselves about difference as well as what it means to find a home. Paolo Bacigalupi's "Mika Model" also attempts to define the nature of humanity after an android murders her owner. Each author cleverly and thoroughly explores the benefits and consequences of change, making this essential reading for anyone intrigued by what might come next for humankind.
PARKING / LIGHT RAIL
Don't want to drive? Take the Light Rail! It lets off at the Central Avenue/Camelback Park-and-Ride, which has hundreds of free parking spaces across the street from Changing Hands.
ABOUT THE AUTHORS
Paolo Bacigalupi's writing has appeared in
WIRED Magazine
,
Slate
,
Medium
, Salon.com, and
High Country News
, as well as
The Magazine of Fantasy and Science Fiction
and
Asimov's Science Fiction Magazine
. His short fiction been nominated for three Nebula Awards, four Hugo Awards, and won the Theodore Sturgeon Memorial Award for best science fiction short story of the year. It is collected in
Pump Six and Other Stories
, a Locus Award winner for Best Collection and also a Best Book of the Year by Publishers Weekly. His debut novel
The Windup Girl
was named by
TIME Magazine
as one of the ten best novels of 2009, and also won the Hugo, Nebula, Locus, Compton Crook, and John W. Campbell Memorial Awards. He is also the author of
Ship Breaker
,
The Drowned Cities
,
Zombie Baseball Beatdown
,
The Doubt Factory
,
The Water Knife
, and
Tool of War
.
Maureen F. McHugh grew up in Ohio, but has lived in New York City and, for a year, in Shijiazhuang, China. She is the author of four novels. Her first novel,
China Mountain Zhang
, won the Tiptree Award and her latest novel,
Nekropolis
, was a Book Sense 76 pick and a
New York Times
Editor's Choice. She was a Finalist for the Story Award for Mothers & Other Monsters, and won a Shirley Jackson Award for her collection
After the Apocalypse
.
After the Apocalypse
was also named one of
Publishers Weekly
's 10 Best Books of 2011. McHugh teaches scriptwriting at the University of Southern California. She and her husband and two dogs used to live next to a dairy farm. Sometimes, in the summer, black and white Holsteins looked over the fence at them. Now she lives in Los Angeles, California, where she is trying desperately to sell her soul to Hollywood but as it turns out, the market is saturated.
ABOUT THE MODERATORS
Diana Bowman is a Professor in the Sandra Day O'Connor College of Law at Arizona State University, where she serves as the Associate Dean for International Engagement. She is also a Professor in the School for the Future of Innovation in Society at ASU, the Co-Director of the Center for Smart Cities and Regions, and an Andrew Carnegie Fellow in 2018. She studies the legal and policy issues associated with emerging technologies, such as nanotechnologies and CRISPR, and public health law.
Victoria Jackson is a sports historian and Clinical Assistant Professor of History in the School of Historical, Philosophical, and Religious studies at Arizona State University. She writes and speaks about the intersection of sport and society, exploring how the games we play and watch tell us much about the communities in which we live. She was a cross country and track and field athlete for the University of North Carolina at Chapel Hill and ASU, the NCAA national champion in the 10,000 meters, and a professional runner endorsed by Nike.

$27.00
ISBN: 9781944700959
Availability: On Our Shelves Now
Published: Unnamed Press - October 2nd, 2019
---