MEET-AND-GREET BOOKSIGNING
Rakim
Sweat the Technique: Revelations on Creativity from the Lyrical Genius
6:30PM THURSDAY, OCTOBER 3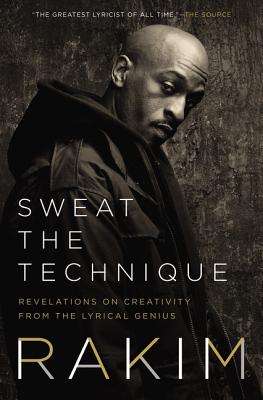 Join us at Changing Hands Phoenix for a meet-and-greet booksigning event with celebrated MC and BET Hip Hop Lifetime Achievement Award-winner Rakim to celebrate his new memoir.
GET YOUR BOOKS AND TICKETS
Order your ticket package(s) at the bottom of the page or directly on Eventbrite. We'll send you an email confirmation. Want additional signed copies of Sweat the Technique? Just add them to your Eventbrite order at checkout. You can pick them up at the bookstore on event night at check-in.
TICKET PACKAGES
→ General Admission: $27.14 + fees: Your ticket includes one (1) signed copy of Sweat the Technique and admission to the signing line for you and one (1) guest.
Purchase below (at the bottom of the page).
EVENT GUIDELINES
CHECK-IN at the front information counter in Changing Hands Phoenix beginning at 6pm.
PICK UP YOUR BOOK at Changing Hands Phoenix on event day beginning at 6pm.
SIGNING LINE forms beginning at 6pm by letter group printed on signing line vouchers handed out at check-in.
This is a meet-and-greet booksigning event.
Ticket includes one (1) copy of Sweat the Technique.
Each fan in line must purchase a ticket or be the guest of a ticket-holder. (Limit one guest per ticket-holder.)
EVENT GUIDELINES may be subject to changes.
REFUNDS will not be issued within seven days of the event.
If you miss the event, tickets are non-refundable. In order to receive your book, you will need to contact us within 30 days of the event. After 30 days, you will receive a trade credit to Changing Hands Bookstore for the cost of the book + tax.
CAN'T MAKE IT?
Call 602.274.0067 to order a signed copy of
Sweat the Technique
and we'll have it signed and reserved for you. We also ship anywhere in the US and to most international locations!
ABOUT THE BOOK
One could look at hip hop as having two eras—Before Rakim and After Rakim. His arrival on the scene added layers, complexity, depth, musicality, and soul to rap. He discovered a new path for MCs. He changed the way MCs rhyme more than anyone ever has. He was calm on the mic and he was complicated with his rhyme patterns—he used multisyllabic rhymes and internal rhymes—and he was undeniably brilliant. He could tell a story about a man down on his luck going out to look for a job and turn it into an epic tale and an unforgettable rhyme. Rakim is not just a great songwriter—he's one of the great writers in modern America, period.
This part memoir, part practical writing guide shows anyone how to write better, while entertaining them with rich, engaging stories from Rakim's life that shaped him as a writer. It offers insight into how he thinks about words, music, and writing. He tells stories of his childhood, growing up in Long Island, the youngest of five in a home filled with musicians, including his mother, a classically trained opera singer. He was a rambunctious teenager who was locked up for getting caught with a gun, which he used and accidentally shot himself. He was quickly rescued from this lifestyle when he met a wise man who encouraged him to join the Nation of Islam. Around this time, he began to take hip hop more seriously, diving deep into his thoughts and theories around writing and rhyming. The entertaining
Sweat the Technique
then reveals how he was influenced by jazz, especially the talents of John Coltrane. Rakim's first album was written when he was 17. It blew up so fast that his management team took him out of high school his senior year to tour.
Sweat the Technique
takes us completely through his riveting professional career, featuring such personalities as L. L. Cool J., Dr. Dre, among others.
Interwoven throughout this memoir of the creative process is boxed text that explains the essentials of writing. Rakim shares a love for words; how to go inward to find the truth in what one is trying to convey; study the style and works of others; know your subject; express yourself (voice) in the manner that is most comfortable and not emulate others; the importance of taking your listener/reader on a journey with your storytelling; and so much more clever information about writing. The heart and mind of an artist and his love for great storytelling, and always, the words.

ABOUT THE AUTHOR
Rakim reigns as one of hip-hop's most transformative artists. Along with his partner Eric B., he recorded 1987's Paid in Full, the landmark recording that MTV named "the greatest hip-hop album of all time." Rakim's inimitable style lyrics, which has drawn comparisons to jazz icon Thelonious Monk, have been cited as an influence on a wide range of top-selling musicians including Jay Z, Nas, Eminem, Tupac, 50 Cent, and The Notorious B.I.G. Rakim is the recipient of the 2012 "I am Hip Hop" Trophy, the 2013 BET Hip Hop Lifetime Achievement Award, as well as multiple Vstrong Hip Hop Honors.