Rachael Ray
Rachael Ray 50: Memories and Meals from a Sweet and Savory Life: A Cookbook
7PM TUESDAY, OCTOBER 15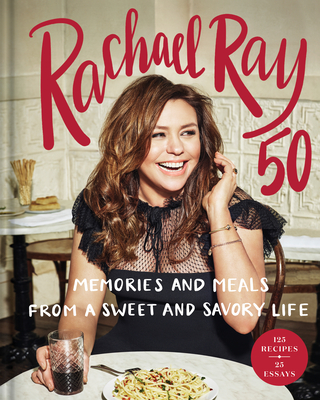 Changing Hands brings Food Network star Rachael Ray to Phoenix to discuss her new memoir-inspired cookbook.
GET YOUR BOOKS AND TICKETS
Order your ticket package(s) at the bottom of the page or directly from Eventbrite. We'll send you an email confirmation. Want additional signed copies of Rachael Ray 50? Just add them to your Eventbrite order at checkout. You can pick them up at the venue on event night at will-call.
TICKET PACKAGES
→ Ticket Package 1: $39.75 + fees: Admission for one (1) person and one (1) signed copy of Rachael Ray 50.
→ Ticket Package 2: $44.75 + fees: Admission for two (2) people and one (1) signed copy of Rachael Ray 50.
Purchase below (at the bottom of the page).
EVENT GUIDELINES
WILL-CALL opens at 6pm in the Orpheum lobby. Please check in here to be admitted into the event.
PICK UP YOUR SIGNED BOOK at will-call in the Orpheum lobby beginning at 6pm.
SEATING is general admission and opens at 6pm.
PARKING is available in several lots near the Orpheum. Check out this map for more info »
EVENT GUIDELINES may be subject to changes.
REFUNDS will not be issued within seven days of the event.
If you miss the event, tickets are non-refundable. In order to receive your book you will need to contact us within 30 days of the event. After 30 days, you will receive a trade credit to Changing Hands Bookstore for the cost of the book + tax.
CAN'T MAKE IT?
Call 602.274.0067 to order a signed copy of
Rachael Ray 50: Memories and Meals from a Sweet and Savory Life
and we'll have it signed and reserved for you. We also ship anywhere in the US and to most international locations!
ABOUT THE BOOK
America's favorite self-taught cook opens up about the most memorable moments of her life in this candid memoir-inspired cookbook featuring 125 all-new recipes.
"No matter the recipe, each of us changes a dish by our own preparation of it. It's the same with stories—once you put them out there, readers get to interpret them and be affected by them as they will. Ultimately, it's my hope that this book leaves the reader with that quiet smile we all get after we eat a favorite comfort food. Basically, I'm going for the afterglow of a big bowl of spaghetti."
—from the Introduction
As her fiftieth birthday approached, the woman who taught America how to get dinner on the table, fast, started thinking not just about what to cook that night, but how her passion for food and feeding people had developed over her first fifty years.
Filled with twenty-five thoughtful essays and 125 delicious recipes,
Rachael Ray 50
reads like a memoir and a cookbook at once. Captured here are the moments and dishes Rachael finds most special, the ones she makes in her own home and that you won't find on her television shows or in her magazine. Here are the memories that made her laugh out loud, or made her teary. The result is a collection that offers the perfect blend of kitchen and life wisdom, including thoughts on how we can all better serve the world and one another.
Also featured within these pages are gorgeous food photography, personal photos, and Rachael's own hand-drawn illustrations, offering a revealing and intimate glimpse into her world and her every day inspiration.
ABOUT THE AUTHOR
Rachael Ray is a
New York Times
bestselling author of more than twenty cookbooks. She is the host of the Food Network's
30 Minute Meals
and
Rachael Ray's Kids Cook-Off
, as well as the Cooking Channel's and the Food Network's
Week in a Day
. She is also the star of the syndicated talk show Rachael Ray; founder and editorial director of her own lifestyle magazine,
Every Day with Rachael Ray
; and founder of the Yum-o! organization.