CO-PRESENTED BY INNER VISION YOGA
Seane Corn
Revolution of the Soul
7PM SATURDAY, OCTOBER 12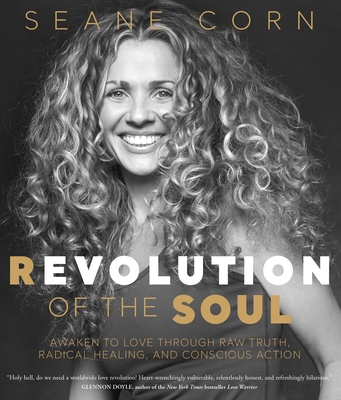 Co-presented by:

"try us and change your life in thirty days!"
Celebrated yoga teacher and activist Seane Corn shares pivotal accounts of her life with raw honesty―enriched with in-depth spiritual teachings―to help us heal, evolve, and change the world.
GET YOUR BOOK AND TICKET
Order your ticket package at the bottom of the page. We'll send you an email confirmation.
TICKET PACKAGES
→ Ticket Package 1: $28.05 + fees: Admission for one (1) person and one (1) signed copy of Revolution of the Soul.
→ Ticket Package 2: $32.05 + fees: Admission for two (2) people and one (1) signed copy of Revolution of the Soul.
Purchase below (at the bottom of the page).
EVENT GUIDELINES
CHECK-IN at the front information counter in Changing Hands Tempe beginning at 6pm.
SEATING opens at 6pm and is determined by letter group printed on signing line voucher handed out at check-in.
PICK UP YOUR BOOK at Changing Hands Tempe on event day beginning at 6pm.
SIGNING LINE forms after the event by letter group printed on signing line vouchers handed out at check-in.
EVENT GUIDELINES may be subject to changes.
REFUNDS will not be issued within seven days of the event.
If you miss the event, tickets are non-refundable. In order to receive your book you will need to contact us within 30 days of the event. After 30 days, you will receive a trade credit to Changing Hands Bookstore for the cost of the book + tax.
CAN'T MAKE IT?
Call 480.730.0205 to order a signed copy of
Revolution of the Soul
and we'll have it signed and reserved for you. We also ship anywhere in the US and to most international locations!
ABOUT THE BOOK
"My first lessons in spirituality and yoga had nothing to do with a mat, but everything to do with waking up. They included angels, seeing God, and being in Heaven. But, believe me, not the way you might think." So begins
Revolution of the Soul
.
What comes next reads like a riveting memoir filled with uncensored moments of joy, pain, wonder, and humor.
Except, this book is so much more than that.
Seane's real purpose is to guide us into a deep, gut-level understanding of our highest Self through yoga philosophy and other tools for emotional healing—not just as abstract ideas but as embodied, fully felt wisdom. Why? To spark a "revolution of the soul" in each of us, so we can awaken to our purpose and become true agents of change. Just a few of the stops along the way include:
The everyday "angels" Seane finds in the gritty corners of New York's 1980s East Village; her early struggles as a total yoga-class misfit; the profound shadow work and body-based practices that helped her to heal childhood trauma, OCD, unhealthy behaviors, and relationship wounding; hard-earned lessons from some of the most heartbreaking places on the planet; and many other unforgettable teaching stories.
ABOUT THE AUTHOR
Seane Corn is an internationally celebrated yoga teacher who has been featured in over 50 different print and broadcast media including The Today Show. An active humanitarian, Seane is the national yoga ambassador for YouthAIDS and the cofounder of Off The Mat, Into the World, a leadership training program. The author of several DVDs, Seane has been studying yoga for more than 20 years. She teaches workshops, conferences, and retreats throughout the U.S. and abroad. Seane Corn is one of the most exceptionally gifted yoga instructors in America. She is not only highly educated in yoga as an Eastern spiritual discipline, she is a natural born teacher who creates an atmosphere of grace, healing, and superb yoga instruction in every class with sincerity of intent and devotion to her practice.
"I feel very privileged to know Seane and have her as a yoga instructor. I am also honored to call her a friend. She is a gracious and gentle person whose commitment to her work and to helping others is a blessing to all who know her." —Caroline Myss, bestselling author of
Invisible Acts of Power, Sacred Contracts,
and
Anatomy of the Spirit
.