Stephen Chbosky
Imaginary Friend
7PM THURSDAY, OCTOBER 10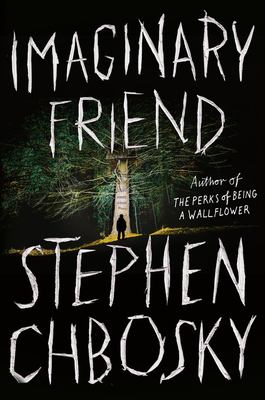 The #1 international bestselling author of The Perks of Being a Wallflower presents his long-awaited second novel, an epic work of literary horror.


GET YOUR BOOK AND TICKET
Order your ticket package at the bottom of the page or through Eventbrite. We'll send you an email confirmation.

TICKET PACKAGES → Ticket Package 1: $32.43 + Eventbrite fees: Admission and seating for one (1) person and one (1) signed hardcover copy of Imaginary Friend. → Ticket Package 2: $36.43 + Eventbrite fees: Admission and seating for two (2) people and one (1) signed hardcover copy of Imaginary Friend.
Purchase below (at the bottom of the page).
EVENT GUIDELINES
CHECK-IN at the front information counter in Changing Hands Tempe beginning at 6pm.
PICK UP YOUR BOOK at Changing Hands Tempe on event day beginning at 6pm.
SEATING opens at 6pm.
EVENT GUIDELINES may be subject to changes.
REFUNDS will not be issued within seven days of the event.
If you miss the event, tickets are non-refundable. In order to receive your book you will need to contact us within 30 days of the event. After 30 days, you will receive a trade credit to Changing Hands Bookstore for the cost of the book + tax.
CAN'T MAKE IT?
Call 480.730.0205 to order a signed copy of
Imaginary Friend
and we'll have it signed and reserved for you. We also ship anywhere in the US and to most international locations!
ABOUT THE BOOK
We can swallow our fear or let our fear swallow us.
Single mother Kate Reese is on the run. Determined to improve life for her and her son, she flees an abusive relationship in the middle of the night with Christopher at her side. Together, they find themselves drawn to the tight-knit community of Mill Grove, Pennsylvania. It's as far off the beaten track as they can get. Just one highway in, one highway out.
At first, it seems like the perfect place to finally settle down. Then Christopher vanishes. For six awful days, no one can find him. Until Christopher emerges from the woods at the edge of town, unharmed but not unchanged. He returns with a voice in his head only he can hear, with a mission only he can complete: Build a tree house in the woods by Christmas, or his mother and everyone in the town will never be the same again.
Soon Kate and Christopher find themselves in the fight of their lives, caught in the middle of a war playing out between good and evil, with their small town as the battleground.
ABOUT THE AUTHOR
Stephen Chbosky is the author of the multi-million-copy bestselling debut novel
THE PERKS OF BEING A WALLFLOWER
. In 2012, Chbosky wrote and directed an acclaimed film adaptation of his novel, starring Logan Lerman, Emma Watson and Ezra Miller. He also directed the acclaimed 2017 film
Wonder
starring Julia Roberts, Owen Wilson and Jacob Tremblay.
IMAGINARY FRIEND
is Chbosky's long-awaited second novel.