TWEEN EVENT
MEET AND GREET BOOKSIGNING
Chris Colfer
A Tale of Magic...
7PM AND 8PM MONDAY, OCTOBER 7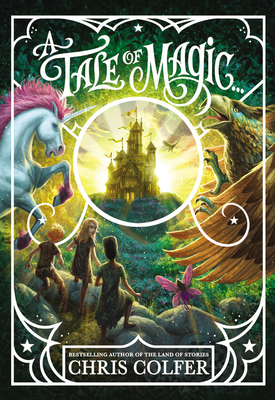 #1 New York Times bestselling author of the Land of Stories, Chris Colfer, signs copies of a his brand new series, A Tale of Magic.
GET YOUR BOOK AND TICKET
Order your ticket package at the bottom of the page. We'll send you an email confirmation.
TICKET PACKAGE
→ $21.53 + fees: One (1) signed hardcover copy of A Tale of Magic and admission to the signing line for two (2) people.
Signing Line entry times: 7pm and 8pm.
Purchase below (at the bottom of the page).
LINE ENTRY TIMES (7PM & 8PM)
Check-in at the front information counter in Changing Hands Tempe beginning at 6:30pm.
Books will be distributed at will-call starting at 6:30pm.
Your signing line admission time will be printed on your ticket.
Admission times are staggered in two blocks: 7pm and 8pm. Within those blocks, admission is first come, first served.
The 7pm signing line will begin forming at 6:30pm.
The 8pm signing line will begin forming at 8pm.
EVENT GUIDELINES
This is a meet-and-greet booksigning event.
Ticket includes one (1) copy of A Tale of Magic.
Each fan in line must purchase a ticket or be the guest of a ticket-holder. (Limit one guest per ticket-holder.)
There is no limit to how many books can be purchased on the day of the signing. However, books should not be brought from home and Chris will only sign backlist purchased at the event.
Chris will sign BOOKS ONLY, no merchandise or memorabilia.
He cannot take posed pictures with fans.
Children under four years old are free.
EVENT GUIDELINES may be subject to changes.
REFUNDS will not be issued within seven days of the event.
If you miss the event, tickets are non-refundable. In order to receive your book you will need to contact us within 30 days of the event. After 30 days, you will receive a trade credit to Changing Hands Bookstore for the cost of the book + tax.
CAN'T MAKE IT?
Call 480.730.0205 to order a signed copy of
A Tale of Magic
and we'll have it signed and reserved for you. We also ship anywhere in the US and to most international locations!
ABOUT THE BOOK
When Brystal Evergreen stumbles across a secret section of the library, she discovers a book that introduces her to a world beyond her imagination and learns the impossible: She is a fairy capable of magic! But in the oppressive Southern Kingdom, women are forbidden from reading and magic is outlawed, so Brystal is swiftly convicted of her crimes and sent to the miserable Bootstrap Correctional Facility.
But with the help of the mysterious Madame Weatherberry, Brystal is whisked away and enrolled in an academy of magic! Adventure comes with a price, however, and when Madame Weatherberry is called away to attend to an important problem, she doesn't return.
Do Brystal and her classmates have what it takes to stop a sinister plot that risks the fate of the world, and magic, forever?
Fall in love with an all-new series from Chris Colfer, the #1
New York Times
bestselling author of the
Land of Stories
, filled with adventure, imagination, and wonderfully memorable characters both familiar and new.
ABOUT THE AUTHOR
Chris Colfer is a #1
New York Times
bestselling author and Golden Globe-winning actor. He was honored as a member of the TIME 100,
Time
magazine's annual list of the one hundred most influential people in the world, and his books include
Struck By Lightning: The Carson Phillips Journal
,
Stranger Than Fanfiction
, and the books in The Land of Stories series:
The Wishing Spell
,
The Enchantress Returns
,
A Grimm Warning
,
Beyond the Kingdoms
,
An Author's Odyssey
, and
Worlds Collide
, and the companion books
A Treasury of Classic Fairy Tales
,
The Mother Goose Diaries
,
Queen Red Riding Hood's Guide to Royalty
,
The Curvy Tree
, and
Trollbella Throws a Party
.