CHANGING HANDS BOOK CLUB
How to Change the World Book Club: The Politics Industry: How Political Innovation Can Break Partisan Gridlock and Save Our Democracy by Katherine M. Gehl and Michael E. Porter
6:30PM MONDAY, OCTOBER 12
LOCATION: LIVE ON ZOOM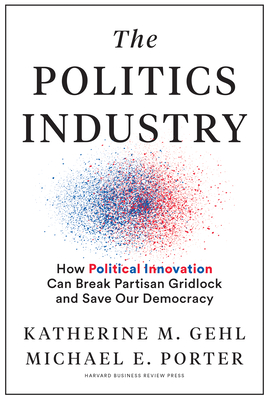 "Mind Your Business" is now "How to Change the World Book Club."
On the second Monday of each month, join Javelina CEO Catherine Alonzo in reading and discussing non-fiction books from the realms of economics, history, social justice, business, and more to learn how to make an impact in your community in our rapidly changing world. You'll get 20% off hardcover and 10% off paperback picks when you purchase the selection of the month at Changing Hands!
A Zoom link to join the club meeting to come.
(One-click entry with a Zoom account. Don't have an account? Sign up
here
. its free!)
This month the group discusses The Politics Industry: How Political Innovation Can Break Partisan Gridlock and Save Our Democracy by Katherine M. Gehl and Michael E. Porter.
ABOUT THE BOOK
Our political system in America is broken, right? Wrong.
The truth is, the American political system is working exactly how it is designed to work, and it isn't designed or optimized today to work for us—for ordinary citizens.
Most people believe that our political system is a public institution with high-minded principles and impartial rules derived from the Constitution. In reality, it has become a private industry dominated by a textbook duopoly—the Democrats and the Republicans—and plagued and perverted by unhealthy competition between the players. Tragically, it has therefore become incapable of delivering solutions to America's key economic and social challenges. In fact, there's virtually no connection between our political leaders solving problems and getting reelected.
In The Politics Industry, business leader and path-breaking political innovator Katherine Gehl and world-renowned business strategist Michael Porter take a radical new approach. They ingeniously apply the tools of business analysis—and Porter's distinctive Five Forces framework—to show how the political system functions just as every other competitive industry does, and how the duopoly has led to the devastating outcomes we see today.
Using this competition lens, Gehl and Porter identify the most powerful lever for change—a strategy comprised of a clear set of choices in two key areas: how our elections work and how we make our laws. Their bracing assessment and practical recommendations cut through the endless debate about various proposed fixes, such as term limits and campaign finance reform. The result: true political innovation.
The Politics Industry is an original and completely nonpartisan guide that will open your eyes to the true dynamics and profound challenges of the American political system and provide real solutions for reshaping the system for the benefit of all.