Meet and Greet Signing - Stephen Pearcy: Sex, Drugs, Ratt & Roll
Please note: Online ordering for this event has been turned off at this time. If you are still interested in purchasing books for this event, please call us at 480-730-0205 between 10am and 9pm MST. Thank you.
6PM THURSDAY, MAY 9
Meet and Greet Signing - Stephen Pearcy: Sex, Drugs, Ratt & Roll
LEAD SINGER OF 1980s HEAVY METAL SUPERGROUP RATT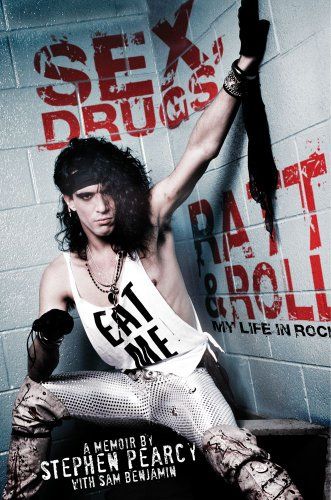 Heavy metal superstar Stephen Pearcy, lead singer of Ratt, presents his account of the time when big-haired bands ruled the world in Sex, Drugs, Ratt & Roll: My Life in Rock.
Pearcy was a scrawny, horny, thrill-seeking Californian teenager with an electric guitar who had graduated from backyard parties to half-empty dives before he and his band broke through at Whiskey a Go Go. Ratt was the perfect band at the perfect time, and their hit single "Round and Round" became a top-selling anthem. The bigger Ratt got, the more excessive Pearcy, his band, and their fans became. There was nothing these guys wouldn't snort, drink, bed, or break. On a journey that could happen only in America, Pearcy met everyone from Michael Jackson to Drew Barrymore to Rodney Dangerfield. As Ratt scrambled up a wall of fame and wealth, so they experienced the gut-wrenching free fall, after too many hours in buses, planes, and limos; too many women; too many drugs; and all the personality clashes and ego trips that marked the beginning of the end. Pearcy offers a stunningly honest self-portrait of a man running on the fumes of ambition and loneliness as the party crashed.
EVENT DETAILS
TICKET is free when you purchase Sex, Drugs, Ratt & Roll from Changing Hands Bookstore.
Letter groups (printed on top of ticket) will be called at 5:30pm to form signing line.
Due to time constraints, Stephen Pearcy cannot pose for photos (they may taken from the line), cannot sign memorabilia, and will personalize with first names only.
No flash photography or video of any kind.
Admission cannot be guaranteed for late arrivals.
Event details may be subject to unannounced changes.
ABOUT THE AUTHOR
STEPHEN PEARCY, founder, lead singer and songwriter of the popular rock band Ratt, led his band to critical praise and multi-platinum success. Formed in Los Angeles in 1982 from the remains of his band Mickey Ratt, Ratt was known for their flamboyant appearance and rebellious attitude. Pearcy currently lives in Los Angeles.