ONLINE ORDERING HAS BEEN TURNED OFF FOR THIS EVENT
Get your book and ticket in-store before the event, or by phone at 602.274.0067.
FAMILY EVENT
Mac Barnett and Adam Rex
How This Book Was Made
11AM SATURDAY, SEPTEMBER 10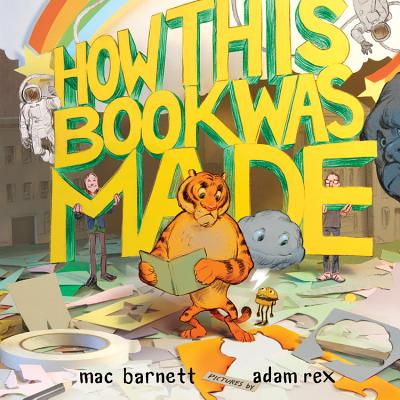 The New York Times best-selling author and illustrator present their newest collaboration, revealing the nitty gritty process of creating a book.
GET YOUR BOOK AND TICKET
Call 602.274.0067 to reserve a book and ticket, or come to our Phoenix location.
EVENT GUIDELINES
Seating is determined by letter group (indicated on tickets) and opens at 10:30am.
→ $17.99+ tax: One (1) copy of How This Book Was Made and admission for a family of up to four (4) people.
Signing line forms after the event by letter group printed on tickets.
Event guidelines may be subject to changes.
CAN'T MAKE IT?
Call 602.274.0067 and we'll have a copy of the book signed and reserved for you. We also ship anywhere in the US and to most international locations!
ABOUT THE BOOK
You may think you know how this book was made, but you don't. Sure, the author wrote many drafts, and the illustrator took a long time creating the art, but then what? How'd it get into your hands? Well, open the cover and read through these pages to find out. Just beware of the pirates and angry tiger.
New York Times
best-selling creators Mac Barnett and Adam Rex reveal the nitty gritty process of making a book ... with a few unexpected twists along the way! Budding writers and artists will laugh at the mix of reality and the absurd as the story makes its way to a shelf, and a reader.
ABOUT THE AUTHOR
MAC BARNETT is the author of several picture books, including
Billy Twitters and His Blue Whale Problem
,
Guess Again!
, and
Oh No!: Or How My Science Project Destroyed the World
. He also writes the Brixton Brothers series of mysteries. Mac is the founder of the Echo Park Time Travel Mart, a convenience store for time travelers, and serves on the board of 826LA, a nonprofit writing and tutoring center.
ABOUT THE ILLUSTRATOR
ADAM REX is the author of many books, including
Cold Cereal
and
Unlucky Charms
, the first two books in the Cold Cereal Saga; the
New York Times
bestselling picture book
Frankenstein Makes a Sandwich
; the middle grade novel
The True Meaning of Smekday
(now a major motion picture from Dreamworks,
Home
); and the teen novel
Fat Vampire
. He currently lives in Arizona with his wife.