TWEEN EVENT
Club Read: The Apprentice Witch
2PM SATURDAY, SEPTEMBER 2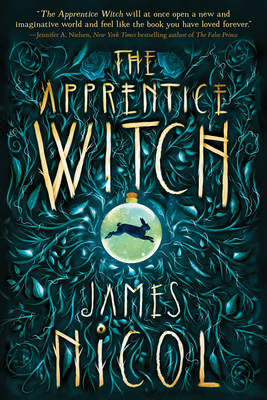 Calling all tweens! Join us for free grub from Clockwork Pizza as we discuss James Nicol's The Apprentice Witch, a middle grade debut novel of magic and courage in a world of witches, written with the charm and enchantment of Circus Mirandus and The Apothecary.
Club Read Badge Members: Get three points for attending the meeting, and one point when you purchase the month's pick at Changing Hands Bookstore. Don't have a free club read badge? Ask a bookseller how to get one!
CLUB READ IN PHOENIX
We will also be discussing
The Apprentice Witch
at 2pm on Saturday, September 2, 2017 at Changing Hands Phoenix's Club Read meeting.
More info »
ABOUT THE BOOK
Arianwyn has flunked her witch's assessment: She's doomed. Declared an apprentice and sent to the town of Lull in disgrace, she may never become a real witch — much to the glee of her arch-rival, Gimma. But remote Lull is not as boring as it seems. Strange things are sighted in the woods, a dangerous infestation of hex creeps throughout the town, and a mysterious magical visitor arrives with his eye on her. With every spirit banished, creature helped, and spell cast, Arianwyn starts to get the hang of being a witch--even if she's only an apprentice. But the worst still lies ahead. For a sinister darkness has begun to haunt her spells, and there may be much more at stake than just her pride . . . for Arianwyn and the entire land.
WHAT IS CLUB READ?
Great books, prize giveaways, tasty treats, author visits and more — it's all part of our free Club Read program for kids, and you're invited! We meet once a month to discuss a book, do some fun activities, and have a great time. Sign up today (it's free!) and start earning points towards all kinds of cool prizes.
More info »

$16.99
ISBN: 9781338118582
Availability: On Our Shelves Now
Published: Chicken House - July 25th, 2017
---