CHANGING HANDS BOOK CLUB
Found in Translation: The Vegetarian by Han Kang
7PM TUESDAY, SEPTEMBER 19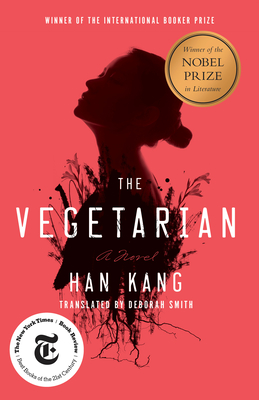 Join us as we discuss this month's pick, Han Kang's The Vegetarian, a beautiful, unsettling novel about rebellion and taboo, violence and eroticism, and the twisting metamorphosis of a soul.
Whether you're a seasoned traveler, a veracious reader, or a dreamer who wants to see the world, all are invited to our newest book club focused on international literature. Sometimes visiting other countries doesn't always give travelers an insider's view into foreign cultures; sometimes we are still too outside, too different, to get at the heart of a place. Often the best way to understand distant lands and peoples is to read their literature, to get inside the head of a foreign author, to hear their myths and fairy tales molded around words they penned in their mother tongue.
In Found in Translation we will delve into a work of international literature in a small group setting while enjoying coffee, beer, or wine drinks from First Draft Book Bar, located in Changing Hands Phoenix.
This is a free book club and the only requirement is that attendees read the book before the meeting, otherwise the end of a great work of international fiction may be ruined for them!
Stop by Changing Hands Phoenix or Tempe (or order online by clicking "add to cart" below) to get your copy of
The Vegetarian
for 10% OFF.

Then meet us at First Draft Book Bar to discuss the pick and enjoy HAPPY HOUR prices all through the event.
FREE PARKING / LIGHT RAIL
There is plenty of free public parking west of Changing Hands Phoenix, at 400 and 444 West Camelback. Additional free public parking across Camelback to the south.
Don't want to drive? Take the Light Rail! It lets off at the Central Avenue/Camelback Park-and-Ride, which has hundreds of free parking spaces across the street from Changing Hands.
ABOUT THE BOOK
Before the nightmares began, Yeong-hye and her husband lived an ordinary, controlled life. But the dreams--invasive images of blood and brutality--torture her, driving Yeong-hye to purge her mind and renounce eating meat altogether. It's a small act of independence, but it interrupts her marriage and sets into motion an increasingly grotesque chain of events at home. As her husband, her brother-in-law and sister each fight to reassert their control, Yeong-hye obsessively defends the choice that's become sacred to her. Soon their attempts turn desperate, subjecting first her mind, and then her body, to ever more intrusive and perverse violations, sending Yeong-hye spiraling into a dangerous, bizarre estrangement, not only from those closest to her, but also from herself.
Celebrated by critics around the world,
The Vegetarian
is a darkly allegorical, Kafka-esque tale of power, obsession, and one woman's struggle to break free from the violence both without and within her.
ABOUT THE AUTHOR
HAN KANG was born in 1970 in South Korea. In 1993 she made her literary debut as a poet, and was first published as a novelist in 1994. A participant of the Iowa Writers' Workshop, Han has won the Man Booker International Prize, the Yi Sang Literary Prize, the Today's Young Artist Award, and the Manhae Literary Prize. She currently works as a professor in the Department of Creative Writing at the Seoul Institute of the Arts.

$15.00
ISBN: 9781101906118
Availability: On Our Shelves Now
Published: Hogarth Press - August 23rd, 2016
---