Kerrie Droban: The Last Chicago Boss
7PM TUESDAY, SEPTEMBER 19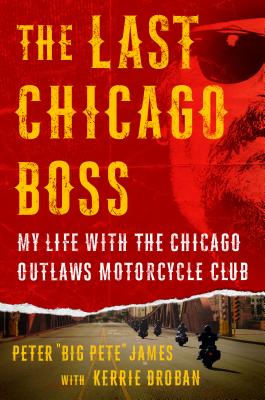 Author and criminal defense attorney Kerrie Droban discusses her latest, an exposé of the inner workings of the Outlaw Nation from the perspective of its controversial leader, Peter "Big Pete" James, all brought to life through never-before-revealed interviews, police files, wiretaps, recordings, and trial transcripts.
A legend in the biker community, "Big Pete" was the most revered gangster in the Outlaw Nation. He first perfected his skills with the Hells Angels, the Outlaws' chief rival, before persuading thousands of disgruntled members from splintered Outlaws chapters to unite. Together they formed a powerful criminal syndicate involved in extortion, contract murders, drugs and arms trafficking, money laundering, and assassinations. Then a shocking medical diagnosis knocked James sideways, forcing him to face a new life on the outside of the organization he built, dodging snitches, federal law enforcement, and contract hits.
ABOUT THE AUTHOR
KERRIE DROBAN is a criminal defense attorney in Phoenix, Arizona, a graduate of the Johns Hopkins University Writing Seminars and the University of Arizona where she received her Masters and Masters of Fine Arts degrees in Poetry. Her true crime books,
Running with the Devil: The True Story of the ATF's Infiltration of the Hells Angels
, (Lyons Press, 2007) won the
USA News
National Book Award for best True Crime in 2008 and
Prodigal Father, Pagan Son: My Life Born Into Madness
, (St. Martin's, Winter, 2011) is a two-time winner of the
USA News
National Book Award for Best True Crime and Best Memoir). Her book,
Vagos, Mongols and Outlaws: My Infiltrations into America's Deadliest Biker Gangs
, (St. Martin's, Winter 2013) is now a television series entitled, "Gangland Undercover," produced by the History Channel. Her book,
A Socialite Scorned: The Murder of Gary Triano
, was featured on
American Greed
,
Dateline
and in "Murders and Mansions" produced by La Brea Entertainment. Kerrie's poetry collection,
The Language of Butchers,
has received critical acclaim, excerpts of which are published in
The Antioch Review
,
Poet Lore
,
New Letters
and
Amelia
and have won The Academy of American Poet's Award, New Letters International Poetry Award, The Amelia Encore Award and The Daniel Shockett Award. Her fiction,
The Watchman's Circle
(New Concepts Publishing) received the Daphne Du Maurier Award for Mystery Writing Excellence.
Kerrie has been a Keynote speaker at gang task force conferences and a national speaker at various Writing Conferences around the country. She has also appeared on national television on CNBC's
American Greed
, "A Widow's Web"; A & E's
Gangland
"Behind Enemy Lines"; the American Hero's Channel, "Codes and Conspiracies," Investigation ID and the Discovery Channel's "Deadly Devotion."

$27.99
ISBN: 9781250105912
Availability: On Our Shelves Now
Published: St. Martin's Press - September 19th, 2017
---