Valerie Foster with Jenna Warnecke: Dancing with a Demon
3PM SUNDAY, SEPTEMBER 10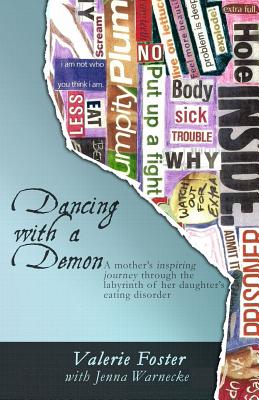 When author Valerie Foster's teen-aged daughter, Jenna, plunges into the dark world of anorexia nervosa, Valerie has to fight against a demon that threatens her daughter's life and her own mental health. Valerie and Jenna will be sharing their riveting and inspiring story and how the complexities of this disease affect one's entire family.
What would you do if your child stopped eating?
Dancing with a Demon
is the true story of a mother searching for answers through the labyrinth of her daughter's struggle with an often fatal and perpetually mysterious disease.
Valerie's riveting narrative follows Jenna's sudden decline and then rise to a remarkable recovery. Jenna's own revealing journal entries, along with Valerie's love letters to her daughter, explore the complexities of the mother-daughter relationship and how this disease affects one's entire family. For psychologists, educators, teens and parents everywhere,
Dancing with a Demon
provides hope, understanding, and enlightenment.
Both Valerie and Jenna will share their extraordinary experience, read from the book, and offer a question-and-answer session with booksigning.
ABOUT THE AUTHOR
VALERIE FOSTER is the author of two memoirs:
Dancing with a Demon
, and
The Risk of Sorrow: Conversations with Holocaust Survivor, Helen Handler
, along with a short story, "Loss," published in River Poets Anthology. An accomplished teacher of writing and literature for over thirty years at both the high school and college level, she is a recipient of the Shofar Zakhor award for Holocaust Education.
JENNA WARNECKE is a poet, essayist, and fiction writer whose work has been featured or is forthcoming in the
Washington Square Review
and
Kindred
, and online at
Narratively
,
The Hairpin
, and the
Huffington Post
. Nominated for the University of Virginia's Best New Poets 2017 anthology, Jenna lives in New York City.

$14.00
ISBN: 9780692809365
Availability: On Our Shelves Now
Published: Albion-Andalus Books - March 17th, 2017
---