HOSTED BY ARIZONA REPUBLIC REPORTER BARBARA VANDENBURGH
First Draft Book Club: Bearskin by James McLaughlin
7PM WEDNESDAY, SEPTEMBER 26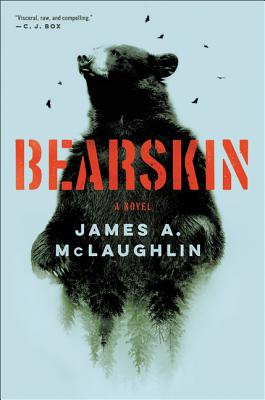 Join us at First Draft Book Bar (the wine and beer bar inside Changing Hands Phoenix) for a discussion of this month's pick, James McLaughlin's Bearskin.
Stop by Changing Hands Phoenix or Tempe (or order online by clicking "add to cart" below) to get your copy of
Bearskin.
Then meet us and
Arizona Republic
reporter Barbara VanDenburgh at First Draft Book Bar to discuss the pick and enjoy
HAPPY HOUR
prices all through the event.
Sign up for Barbara VanDenburgh's weekly "Feel Good 5" newsletter
here
, and join our First Draft Book Club Facebook group
here
.
ABOUT THE BOOK
Rice Moore is just beginning to think his troubles are behind him. He's found a job protecting a remote forest preserve in Virginian Appalachia where his main responsibilities include tracking wildlife and refurbishing cabins. It's hard work, and totally solitary—perfect to hide away from the Mexican drug cartels he betrayed back in Arizona. But when Rice finds the carcass of a bear killed on the grounds, the quiet solitude he's so desperately sought is suddenly at risk.
More bears are killed on the preserve and Rice's obsession with catching the poachers escalates, leading to hostile altercations with the locals and attention from both the law and Rice's employers. Partnering with his predecessor, a scientist who hopes to continue her research on the preserve, Rice puts into motion a plan that could expose the poachers but risks revealing his own whereabouts to the dangerous people he was running from in the first place.
James McLaughlin expertly brings the beauty and danger of Appalachia to life. The result is an elemental, slow burn of a novel—one that will haunt you long after you turn the final page.
WHAT IS FIRST DRAFT BOOK CLUB?
First Draft Book Club is the official book club of
First Draft Book Bar
– the coffee, beer, and wine bar inside Changing Hands Phoenix. Every month,
Arizona Republic
reporter Barbara VanDenburgh picks a hot new book and hosts a guided book club discussion.
Co-sponsored by:

$26.99
ISBN: 9780062742797
Availability: On Our Shelves Now
Published: Ecco - June 12th, 2018
---