CHANGING HANDS BOOK CLUB
Found in Translation: Eve Out of Her Ruins by Ananda Devi
7PM WEDNESDAY, SEPTEMBER 12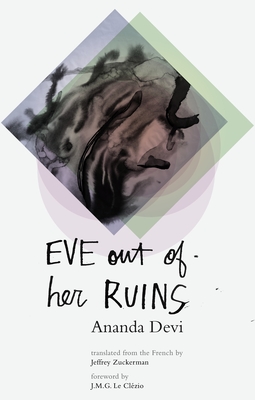 This month we'll discuss Eve Out of Her Ruins by Ananda Devi, translated by Jeffrey Zuckerman.
Whether you're a seasoned traveler, a voracious reader, or a dreamer who wants to see the world, all are invited to our newest book club focused on international literature. Sometimes visiting other countries doesn't always give travelers an insider's view into foreign cultures; sometimes we are still too outside, too different, to get at the heart of a place. Often the best way to understand distant lands and peoples is to read their literature, to get inside the head of a foreign author, to hear their myths and fairy tales molded around words they penned in their mother tongue.
In Found in Translation, we will delve into a work of international literature in a small group setting while enjoying coffee, beer, or wine drinks from First Draft Book Bar, located in Changing Hands Phoenix.
Stop by Changing Hands Phoenix or Tempe (or order online by clicking "add to cart" below) to get your copy of
Eve Out of Her Ruins
for
10% OFF
.
Then meet us at First Draft Book Bar to discuss the pick and enjoy
HAPPY HOUR
prices all through the event.
FREE PARKING / LIGHT RAIL
Don't want to drive? Take the Light Rail! It lets off at the Central Avenue/Camelback Park-and-Ride, which has hundreds of free parking spaces across the street from Changing Hands.
ABOUT THE BOOK
With brutal honesty and poetic urgency, Ananda Devi relates the tale of four young Mauritians trapped in their country's endless cycle of fear and violence: Eve, whose body is her only weapon and source of power; Savita, Eve's best friend, the only one who loves Eve without self-interest, who has plans to leave but will not go alone; Saadiq, gifted would-be poet, inspired by Rimbaud, in love with Eve; Clelio, belligerent rebel, waiting without hope for his brother to send for him from France.
Eve Out of Her Ruins
is a heartbreaking look at the dark corners of the island nation of Mauritius that tourists never see, and a poignant exploration of the construction of personhood at the margins of society. Awarded the prestigious Prix des Cinq continents upon publication as the best book written in French outside of France,
Eve Out of Her Ruins
is a harrowing account of the violent reality of life in her native country by the figurehead of Mauritian literature.
The book features an original introduction by Nobel Prize winner J.M.G. Le Clezio, who declares Devi "a truly great writer."

$14.95
ISBN: 9781941920404
Availability: Not Available In-Store - Usually Ships from Warehouse in 1-5 Days
Published: Deep Vellum Publishing - September 13th, 2016
---