PANEL DISCUSSION
Arjun Singh Sethi: American Hate: Survivors Speak Out
7PM THURSDAY, SEPTEMBER 6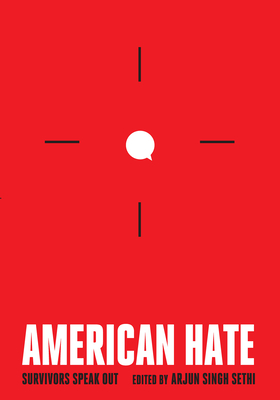 In partnership with CAIR-AZ
and Rep. Athena Salman.
Changing Hands and CAIR-AZ present a panel discussion with Representative Athena Salman, Imraan Siddiqi, and Arjun Singh Sethi about Sethi's new book American Hate: Survivors Speak Out.

The panelists will discuss the spread of hate nationwide, recent incidents of hate at the Tempe mosque, and efforts to improve Arizona's hate crime statute. Audience Q&A and booksigning follows the discussion.
A moving and timely collection of testimonials from people impacted by hate before and after the 2016 presidential election
In American Hate, Arjun Singh Sethi, a community activist and civil rights lawyer, chronicles the stories of individuals affected by hate. In a series of powerful, unfiltered testimonials, survivors tell their stories in their own words and describe how the bigoted rhetoric and policies of the Trump administration have intensified bullying, discrimination, and even violence toward them and their communities.
We hear from the family of Khalid Jabara, who was murdered in Tulsa, Oklahoma, in August 2016 by a man who had previously harassed and threatened them because they were Arab American. Sethi brings us the story of Jeanette Vizguerra, an undocumented mother of four who took sanctuary in a Denver church in February 2017 because she feared deportation under Trump's cruel immigration enforcement regime. Sethi interviews Taylor Dumpson, a young black woman who was elected student body president at American University only to find nooses hanging across campus on her first day in office. We hear from many more people impacted by the Trump administration, including Native, Black, Arab, Latinx, South Asian, Southeast Asian, Muslim, Jewish, Sikh, undocumented, refugee, transgender, queer, and people with disabilities.
A necessary book for these times, American Hate explores this tragic moment in U.S. history by empowering survivors whose voices white supremacists and right-wing populist movements have tried to silence. It also provides ideas and practices for resistance that all of us can take to combat hate both now and in the future.
ABOUT THE PANELISTS
ARJUN SINGH SETHI is a community activist, civil rights lawyer, writer, and law professor based in Washington, DC. He works closely with Muslim, Arab, South Asian, and Sikh communities and advocates for racial justice, equity, and social change at both the local and the national levels. His writing has appeared in
CNN Opinion
,
The Guardian
,
Politico
magazine,
USA Today
, and the
Washington Post
, and he is featured regularly on national radio and television. He holds faculty appointments at Georgetown University Law Center and Vanderbilt University Law School, and presently co-chairs the American Bar Association's National Committee on Homeland Security, Terrorism, and Treatment of Enemy Combatants.
ATHENA SALMAN is an activist and member of the the Arizona State Legislature, representing District 26. Since her election in 2016, she has been a tireless advocate for marginalized communities and standing up against unjust policies targeting multiple communities. Coming from a diverse background, with a father who immigrated from Palestine and a mother of German and Mexican heritage, Athena continues to work to be a voice for those under-represented in politics. She is a graduate of Arizona State University, in Tempe.
IMRAAN SIDDIQI is a writer, activist, entrepreneur and currently serves as the Executive Director of The Council on Islamic Relations of Arizona. Imraan has written extensively on the subject of Islamophobia and issues facing the American Muslim community for over 16 years. His writings have been published in outlets across the globe, and he is frequently called upon to appear in print, television, radio and online media. Since 2011, Imraan has been involved with the Arizona chapter of The Council on American Relations, which is the nation's largest Muslim civil rights and advocacy organization. In 2015, he became the organization's Executive Director, guiding it to becoming one of the most visible CAIR chapters in America. In addition to managing the day-to-day activities of the chapter, Imraan also founded the #HateHurts project, which has garnered global praise as a resource for tracking Islamophobia and its fallout on many communities. He has lived in the Phoenix metro area since 2005 and currently resides in Chandler with his wife and 3 sons.

$24.99
ISBN: 9781620973714
Availability: Not Available In-Store - Usually Ships from Warehouse in 1-5 Days
Published: New Press - August 7th, 2018
---