Radha Agrawal: Belong: Find Your People, Create Community, and Live a More Connected Life
7PM SATURDAY, SEPTEMBER 22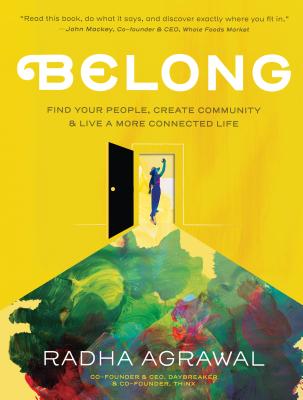 Social entrepreneur, impact investor, and inventor Radha Agrawal presents her book, a creative blueprint for bringing connectedness back into our lives.
It's the great paradox of the digital age, what Radha Agrawal calls "community confusion"—the internet connects us to hundreds, thousands, even millions of people, and yet we feel more isolated than ever, with 1 in 4 Americans saying they have zero friends to confide in. Where are our people? The answer is found in
Belong
, a highly energetic and beautifully illustrated guide to discovering where and with whom you fit.
After suffering her own bout of community confusion, Agrawal embarked on a journey that ultimately resulted in co-founding
Daybreaker
, a transformative phenomenon where thousands of people get up at the crack of dawn, meet in event spaces in 22 cities around the world, and dance. Now she's distilled her experience for finding meaningful connections into a two-step process.
The first step is GOING IN. This includes determining what we want in a friend and community and what we offer, becoming intentional about our relationships, gauging the type of energy we emit and respond to, and understanding how we do—or don't—show up for others. Then comes GOING OUT—how to find a few special friends who feed our soul; or how to find a fully engaged group with similar business, artistic, and social aims; or both.
Connectedness is the most significant factor in human happiness—
Belong
is a creative blueprint for bringing this most important dimension back into our lives.
ABOUT THE AUTHOR
A successful social entrepreneur, impact investor, inventor, speaker, and lifelong community builder, Radha Agrawal founded Daybreaker, the grassroots, sober early-morning dance phenomenon. What began in 2013 as a social experiment with her friend has grown into a
bona fide
dance movement with events in 18 cities across North America, Europe, and Asia and over 350,000 loyal community members and is growing rapidly.
Daybreaker
has inspired lifelong friendships, surprise engagements, and transformational experiences for community members. It has been described as "the Studio 54 for millennials" and "the future of nightlife." Daybreaker has expanded its offerings into a full lifestyle brand including a content channel and apparel line, and is going further to include a food and beverage line and fitness studios. It has been featured in thousands of publications including the
New York Times
,
The Washington Pos
t,
Good Morning America
,
GQ
, and
SNL
, among others, with over a billion social media impressions.
Radha is also an angel investor with over a dozen exciting start-ups whose investors also include Beyoncé, Mark Cuban, Peter Thiel, and Troy Carter. She travels around the world speaking on social entrepreneurship and community building. She is the recipient of the Tribeca Disruptive Innovation Award and has been touted as "1 of 8 women who will change the world" by MTV. She lives in Brooklyn, New York.

$19.95
ISBN: 9781523502059
Availability: On Our Shelves Now
Published: Workman Publishing Company - September 4th, 2018
---