TEEN EVENT
Amy Lukavics: Nightingale
Abigail Johnson: The First to Know
Kelly DeVos: Fat Girl on a Plane
7PM TUESDAY, SEPTEMBER 25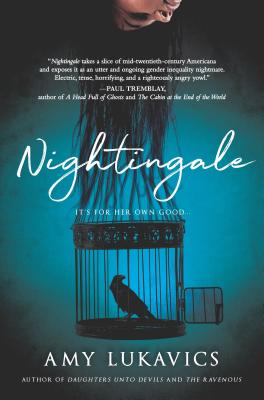 With Special Guests:
Local YA horror author Amy Lukavics presents her latest thriller with special guests Abigail Johnson and Kelly Devos.
About
Nightingale
:
At seventeen, June Hardie is everything a young woman in 1951 shouldn't be—independent, rebellious, a dreamer. June longs to travel, to attend college and to write the dark science fiction stories that consume her waking hours. But her parents only care about making June a better young woman. Her mother grooms her to be a perfect little homemaker while her father pushes her to marry his business partner's domineering son. When June resists, her whole world is shattered—suburbia isn't the only prison for different women. June's parents commit her to Burrow Place Asylum, aka the Institution. With its sickening conditions, terrifying staff, and brutal "medical treatments," the Institution preys on June's darkest secrets and deepest fears. And she's not alone. The Institution terrorizes June's fragile roommate, Eleanor, and the other women locked away within its crumbling walls. Those who dare speak up disappear—or worse. Trapped between a gruesome reality and increasingly sinister hallucinations, June isn't sure where her nightmares end and real life begins. But she does know one thing: in order to survive, she must destroy the Institution before it claims them all.
About
The First to Know
:
Dana Fields's father never knew his parents. When Dana secretly does a DNA test for her dad, hoping to find him some distant relatives for his birthday, her entire world implodes. Instead of a few third cousins, Dana discovers a half brother her age whose very existence means her parents' happy marriage is a lie. Dana's desire to know her half brother, Brandon, and the extent of her dad's deception clashes with her wish not to destroy her family. When she sees the opportunity to get to know Brandon through his cousin, the intense yet kind Chase, she takes it. But the more she finds out about Brandon, her father's past and the irresistible guy who'll never forgive her if he discovers the truth, the more she sees the inevitable fallout from her own lies. With her family crumbling around her, Dana must own up to her actions and find a way to heal the breach--for everyone--before they're torn apart for good.
About
Fat Girl on a Plane
:
FAT Cookie Vonn's dreams include getting out of Phoenix and becoming the next great fashion designer. But in the world of fashion, being fat is a cardinal sin. It doesn't help that she's constantly compared to her supermodel mother--and named after a dessert.Cookie scores a trip to New York to pitch her design portfolio, but her plans are put on standby when she's declared too fat to fly. When she finally arrives, she finds she's been replaced by her ultrathin rival. Cookie vows to lose weight, get out of the friend zone with her crush, and put her dreams back on track. SKINNY Cookie expected sunshine and rainbows, but nothing about her new life is turning out like she planned. When the fashion designer of the moment offers her what she's always wanted--an opportunity to live and study in New York--she finds herself in a world full of people more interested in putting women down than dressing them up. Her designs make waves, but her real dream of creating great clothes for people of all sizes seems to grow more distant by the day.Will she realize that she's always had the power to make her own dreams come true?
PARKING / LIGHT RAIL
Don't want to drive? Take the Light Rail! It lets off at the Central Avenue/Camelback Park-and-Ride, which has hundreds of free parking spaces across the street from Changing Hands.
ABOUT THE AUTHORS
AMY LUKAVICS lurks within the forested mountains of Prescott, Arizona, along with her husband and two precious squidlings. When she isn't reading or writing creepy stories, she enjoys cooking, crafting and playing many video games. She is the author of
Daughters unto Devils
and
The Women in the Walls
.
ABIGAIL JOHNSON was born in Pennsylvania. When she was twelve, her family traded in snowstorms for year-round summers and moved to Arizona. Abigail chronicled the entire road trip and has been writing ever since. She became a tetraplegic when she was seventeen, but hasn't let that stop her from bodysurfing in Mexico, writing and directing a high-school production of
Cinderella
, and becoming a published author.
KELLY DEVOS -- A third generation native Arizonan, Kelly deVos can tell you everything you've ever wanted to know about cactus, cattle and climate. She holds a B.A. in Creative Writing from Arizona State University and her work has been featured in
Normal Noise
and
202 Magazine
. All proceeds from this book will be used on shoe subscription boxes and designer sunglasses.

Email or call for price
ISBN: 9781335012340
Availability: Hard to Find
Published: Harlequin Teen - September 25th, 2018
---

$18.99
ISBN: 9781335007940
Availability: Special Order - Subject to Availability
Published: Harlequin Teen - November 7th, 2017
---

$18.99
ISBN: 9780373212538
Availability: On Our Shelves Now
Published: Harlequin Teen - June 5th, 2018
---