Clive Wynne: Dog Is Love: Why and How Your Dog Loves You
7PM FRIDAY, SEPTEMBER 27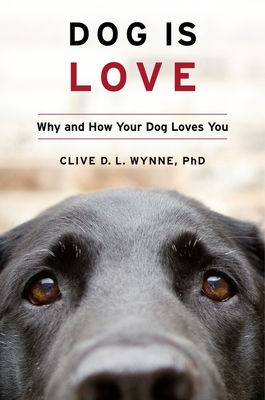 Clive Wynne, founding director of the Canine Science Collaboratory at Arizona State University, discusses Dog is Love: Why and How Your Dog Loves You, his new book drawing on cutting-edge research to show that a single, simple trait—the capacity to love—is what makes dogs such perfect companions for humans, and to explain how we can better reciprocate their affection.
Every dog lover knows the feeling. The nuzzle of a dog's nose, the warmth of them lying at our feet, even their whining when they want to get up on the bed. It really seems like our dogs love us, too. But for years, scientists have resisted that conclusion, warning against anthropomorphizing our pets. Enter Clive Wynne, a pioneering canine behaviorist whose research is helping to usher in a new era: one in which love, not intelligence or submissiveness, is at the heart of the human-canine relationship. Drawing on cutting‑edge studies from his lab and others around the world, Wynne shows that affection is the very essence of dogs, from their faces and tails to their brains, hormones, even DNA. This scientific revolution is revealing more about dogs' unique origins, behavior, needs, and hidden depths than we ever imagined possible.
A humane, illuminating book,
Dog Is Love
is essential reading for anyone who has ever loved a dog—and experienced the wonder of being loved back.
ABOUT THE AUTHOR
CLIVE D.L. WYNNE, Ph.D., is the founding director of the Canine Science Collaboratory at Arizona State University. Previously, he was founding director of the Canine Cognition and Behavior Laboratory at the University of Florida, the first lab of its kind in the United States. A native of the United Kingdom, Wynne has lived and worked in Germany and Australia as well as the United States and gives frequent talks to paying audiences around the world. The author of several previous academic books and of more than 100 peer-reviewed scientific journal articles that count among the most highly cited studies on dog psychology, he has also published pieces in
Psychology Today
,
New Scientist
, and
The New York Times
, and has appeared in several television documentaries about dog science on National Geographic Explorer, PBS, and the BBC. He lives in Tempe, Arizona.

$28.00
ISBN: 9781328543967
Availability: On Our Shelves Now
Published: Houghton Mifflin Harcourt - September 24th, 2019
---