CHANGING HANDS BOOK CLUB
Found in Translation: Blue Label by Eduardo Sánchez Rugeles, translated by Paul Filev
7PM WEDNESDAY, SEPTEMBER 11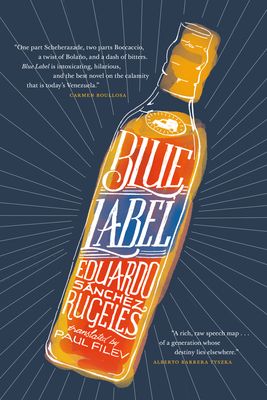 This month we'll discuss Blue Label by Eduardo Sánchez Rugeles, translated by Paul Filev.
Whether you're a seasoned traveler, a voracious reader, or a dreamer who wants to see the world, all are invited to our newest book club focused on international literature. Sometimes visiting other countries doesn't always give travelers an insider's view into foreign cultures; sometimes we are still too outside, too different, to get at the heart of a place. Often the best way to understand distant lands and peoples is to read their literature, to get inside the head of a foreign author, to hear their myths and fairy tales molded around words they penned in their mother tongue.
In Found in Translation, we will delve into a work of international literature in a small group setting while enjoying coffee, beer, or wine drinks from First Draft Book Bar, located in Changing Hands Phoenix.
Stop by Changing Hands Phoenix or Tempe (or order online by clicking "add to cart" below) to get your copy of
Blue Label
for
10% OFF
.
Then meet us at First Draft Book Bar to discuss the pick and enjoy
HAPPY HOUR
prices all through the event.
FREE PARKING / LIGHT RAIL
Don't want to drive? Take the Light Rail! It lets off at the Central Avenue/Camelback Park-and-Ride, which has hundreds of free parking spaces across the street from Changing Hands.
ABOUT THE BOOK
Eugenia Blanc, a young Caraqueñan and quintessential teenager at war with the world around her, has one aim: after graduating from high school, to abandon Venezuela definitively. She embarks on a spontaneous road trip in a banged-up Fiat with her rebellious classmate Luis Tévez, in search of her grandfather, the one person who can provide her with the documents that would allow her to leave the country. While Eugenia and Luis's tentative, troubled romance unfolds during the Chávez era, the story also looks back at Venezuela's "lost decade" of the 1990s, a time of intractable violence, inequality, corruption, and instability that led to Chávez's election. With an unvarnished fluidity that brings to mind Jack Kerouac and a crazy-ass playlist that ranges from REM to Bob Dylan to El Canto del Loco to Shakira,
Blue Label
is an audacious, dark novel with a gut-punch of an ending; the prize-winning first book by a writer who has cemented his reputation as a major young Latin American voice.

$14.40
ISBN: 9781885983572
Availability: On Our Shelves Now
Published: Turtle Point Press - October 16th, 2018
---