Marika Meeks: Incredibull Stella: How the Love of a Pit Bull Rescued a Family
7PM THURSDAY, SEPTEMBER 5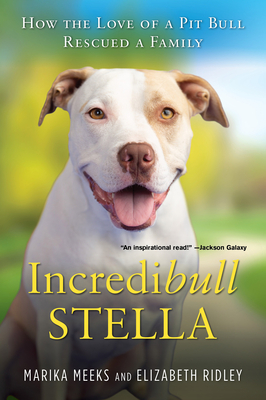 Meet co-author Marika Meeks —and Stella—at Changing Hands Phoenix as Meeks discusses and signs copies of her book, the inspiring story of how she survived cancer but didn't learn to live again until she adopted Stella.
Marika Meeks fell in love with Stella the moment she saw her. The adorable pit bull puppy had been abandoned in a cold field in winter—but her warm, friendly eyes and boundless affection could melt anyone's heart. Even so, Marika wasn't sure she was ready to adopt a dog. As a busy entrepreneur, wife, and mother of two daughters, Marika's life was crazy already. She was recovering from Stage 3 breast cancer, and her family was still reeling from her brush with mortality. But Marika couldn't deny the way Stella made her feel—the pure joy of this sweet-natured dog's unconditional love—and she knew in her heart what her family needed . . .
In a leap of faith, the Meekses welcomed Stella into their home, and thanks to this incredible dog, the daily pressures of work, stress, and Marika's health problems seemed to slip away. As Marika's cancer receded and her family found renewed vitality, she began sharing Stella's story with the world. Now an international social media star, Stella helps Marika to spread their heartfelt message of advocating for pit bull breed awareness, explaining the benefits of pet ownership, and supporting shelters and other organizations that save animals' lives.
If you've ever experienced the joy that only an animal can bring—or felt the healing power of a pet's unconditional love—you're going to adore Incredi
bull
Stella.
PARKING / LIGHT RAIL
Don't want to drive? Take the Light Rail! It lets off at the Central Avenue/Camelback Park-and-Ride, which has hundreds of free parking spaces across the street from Changing Hands.
ABOUT THE AUTHOR
Marika Meeks
was born in England and emigrated to the United States with her family at age six. A lifelong entrepreneur, she started her first business at the age of nineteen and went on to become the co-owner of a national software company. She brought a new franchise concept to Fort Wayne, Indiana, when she opened the city's first Jimmy John's. In January 2013, Marika was diagnosed with stage-three breast cancer at the age of forty-one. She traveled to Scottsdale, Arizona, in April 2015 for cancer treatment and ended up settling in Arizona with her family. Now cancer-free, Marika is devoted to sharing the story of how Stella has changed her life while helping as many people and animals as possible. Visit Marika and Stella on Facebook, on Instagram @incredibullstella, or at incredibullstella.com.

$15.95
ISBN: 9780806539461
Availability: On Our Shelves Now
Published: Citadel - August 27th, 2019
---