Sarah Vap: Winter: Effulgences and Devotions
5PM SUNDAY, SEPTEMBER 15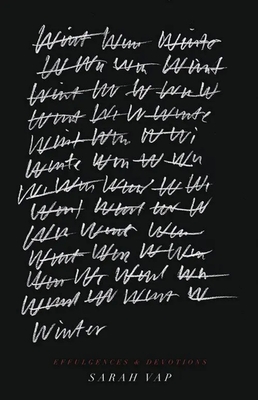 Sarah Vap discusses her latest book, an effort to locate the origins of insidiousness in the era of Late-Capitalism.
Poetry. Literary Nonfiction. In
Winter: Effulgences and Devotions
, Sarah Vap documents the obstacles to writing a single poem over a twelve-year period. Her account becomes a confrontation with the insidious, radiating, pliant character of late capitalism. She encounters it as a rootless system, an airborne contagion, a toxin in the walls of our homes. Pursuing her distractions across the years, Vap makes certain commitments: to remember the wars that her country is waging, which are meant to be invisible to her; to mourn the deaths of whales by sonar; to hear though she is deaf; to be present for the loss of winter, as she knows it, from earth; and to herself, a profane and multifarious creature who possibly has a soul. Reeling from the nonstop "competition" that sustains the anthropocene's profiteers, Vap offers an unapologetic case study of encroachment, susceptibility, tenderness, porousness and endurance.
PARKING / LIGHT RAIL
Don't want to drive? Take the Light Rail! It lets off at the Central Avenue/Camelback Park-and-Ride, which has hundreds of free parking spaces across the street from Changing Hands.
ABOUT THE AUTHOR
Sarah Vap is the author of seven books of poetry, poetics, and creative nonfiction. She is the recipient of a National Endowment of the Arts Fellowship, and was selected as winner of the National Poetry Series, the Iowa Poetry Prize, and was the Distinguished Hugo Writer the University of Montana. She received her BA from Brown University, her MFA from Arizona State University, and her PhD from the University of Southern California. She has been faculty for the past five years in the MFA program in Poetry and Poetry in Translation at Drew University. Vap was raised in Missoula, Montana.

$15.00
ISBN: 9781934819838
Availability: On Our Shelves Now
Published: Noemi Press - September 15th, 2019
---