Dusti Bowling: Momentous Events in the Life of a Cactus
7PM TUESDAY, SEPTEMBER 17
ONLINE ORDERING HAS BEEN TURNED OFF FOR THIS EVENT
Get your book and ticket in-store before the event, or by phone at 602.274.0067.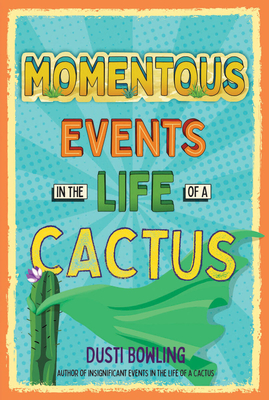 Local author Dusti Bowling presents the sequel to her critically acclaimed Insignificant Events in the Life of a Cactus, following Aven Green as she confronts yet another challenge: high school.
Just as Aven starts to feel comfortable in Stagecoach Pass, with her friends and schoolmates accustomed to her lack of "armage," everything changes once again. She's about to begin high school . . . with 3,000 new kids to stare at her. And no matter how much Aven tries to play it cool, nothing prepares her for the reality. In a year filled with confusion, humiliation, and just maybe love, can Aven manage to stay true to herself?
PARKING / LIGHT RAIL
Don't want to drive? Take the Light Rail! It lets off at the Central Avenue/Camelback Park-and-Ride, which has hundreds of free parking spaces across the street from Changing Hands.
ABOUT THE AUTHOR
Dusti Bowling holds a Bachelor of Psychology and a Master of Education. She is the author of the well-reviewed
Insignificant Events in the Life of a Cactus
and
24 Hours in Nowhere
. She currently lives in Carefree, AZ, with her husband and three daughters.