CHANGING HANDS BOOK CLUB
How to Change the World Book Club: Well: What We Need to Talk about When We Talk about Health by Sandro Galea
6:30PM PDT MONDAY, SEPTEMBER 14
LOCATION: LIVE ON ZOOM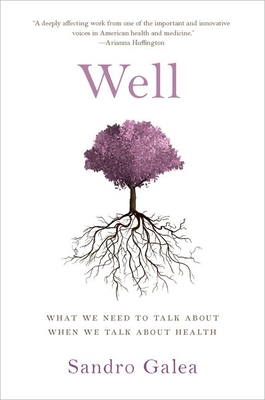 "Mind Your Business" is now "How to Change the World Book Club."
On the second Monday of each month, join Javelina CEO Catherine Alonzo in reading and discussing non-fiction books from the realms of economics, history, social justice, business, and more to learn how to make an impact in your community in our rapidly changing world. You'll get 20% off hardcover and 10% off paperback picks when you purchase the selection of the month at Changing Hands!
A Zoom link to join the club meeting to come.
(One-click entry with a Zoom account. Don't have an account? Sign up
here
. its free!)
This month the group discusses Well: What We Need to Talk about When We Talk about Health by Sandro Galea.
ABOUT THE BOOK
"A deeply affecting work from one of the important and innovative voices in American health and medicine." -- Arianna Huffington
In
Well
, physician Sandro Galea examines what Americans miss when they fixate on healthcare: health.
Americans spend more money on health than people anywhere else in the world. And what do they get for it? Statistically, not much. Americans today live shorter, less healthy lives than citizens of other rich countries, and these trends show no signs of letting up.
The problem, Sandro Galea argues, is that Americans focus on the wrong things when they think about health. Our national understanding of what constitutes "being well" is centered on medicine -- the lifestyles we adopt to stay healthy, and the insurance plans and prescriptions we fall back on when we're not. While all these things are important, they've not proven to be the difference between healthy and unhealthy on the large scale.
Well
is a radical examination of the subtle and not-so-subtle factors that determine who gets to be healthy in America. Galea shows how the country's failing health is a product of American history and character -- and how refocusing on our national health can usher enlightenment across American life and politics.

$24.95
ISBN: 9780190916831
Availability: On Our Shelves Now
Published: Oxford University Press, USA - May 1st, 2019
---