VIRTUAL AUTHOR EVENT
Jennifer Spiegel: Cancer, I'll Give You One Year
7PM PDT FRIDAY, SEPTEMBER 25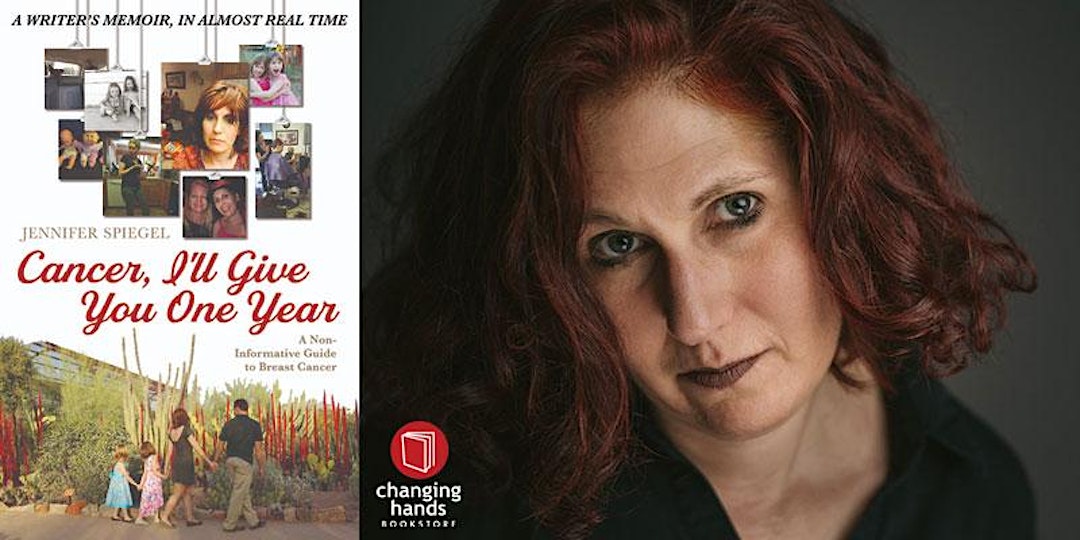 LOCATION: LIVE ON ZOOM
To attend this virtual event, we request a contribution of $5 or more, or the purchase of
Cancer, I'll Give You One Year via Eventbrite below.
Your generosity helps us continue to present world-class literary events like this. We're glad you're here, and appreciate your support. You'll receive the Zoom link by email within 24 hours of the event's start time.*
Jennifer Spiegel reads from her fourth book and first memoir, Cancer, I'll Give You One Year: A Non-Informative Guide To Breast Cancer, A Writer's Memoir In Almost Real Time. It's not about kale. Lara Smith, with whom Spiegel reviews books on Snotty Literati, emcees/moderates the discussion. Writers will be interested; readers are wanted! No interest in cancer required.

Jennifer will read for approximately fifteen minutes, which will be followed by a 45-60 minute discussion/Q & A led by Lara Smith. Lara is a polished speaker and book reviewer, and the two of them will discuss topics ranging from theme to craft. Hopefully, the bulk of time will be spent taking audience questions.
Cancer, I'll Give You One Year: A Non-Informative Guide To Breast Cancer, A Writer's Memoir In Almost Real Time is not about eating kale. The book is 100% narrative nonfiction and 0% self-help. It was actually written for the author's children in case she died. This sounds morbid, but maybe "pointed" and "candid" are better words. Embracing candor as an aesthetic, this real-time story hits upon the sacred, the profane, a trip to Epcot, a colonoscopy, her kids' responses to everything, and OJ Simpson's parole hearing. Writing-centric, voice-driven, and conscious of a death sentence . . . no diets or exercises are offered, but the author may give horrible parenting advice. It's undoubtedly funny, but also a meditation on meaning.
*Our Zoom events are password-protected with wait rooms enabled. The password is entered automatically by clicking the event link when logged in to a Zoom account. We'll admit guests shortly before 7pm and throughout the event. If you join late, please be patient—we'll admit you when we see you.

ABOUT THE AUTHOR
Jennifer is mostly a fiction writer with two novels, one story collection, and one memoir. She also teaches English and creative writing. Additionally, she is part of Snotty Literati, a book-reviewing gig, with Lara Smith. She lives with her family in Arizona.

ABOUT THE MODERATOR
Lara Smith blogs and writes about books as Snotty Literati at www.onelitchick.com with Jennifer Spiegel. For the past 17 years, she's dined and dished with her own book club, The Book Babes. She has also run a Book Bingo group on Facebook for the last six years. Of course she's a member of Changing Hands' First Draft Book Club, and clearly it's rare that she does anything that doesn't involve books. Follow her on Instagram @OneLitChick.